5 Reasons for Registering a Web3 TLD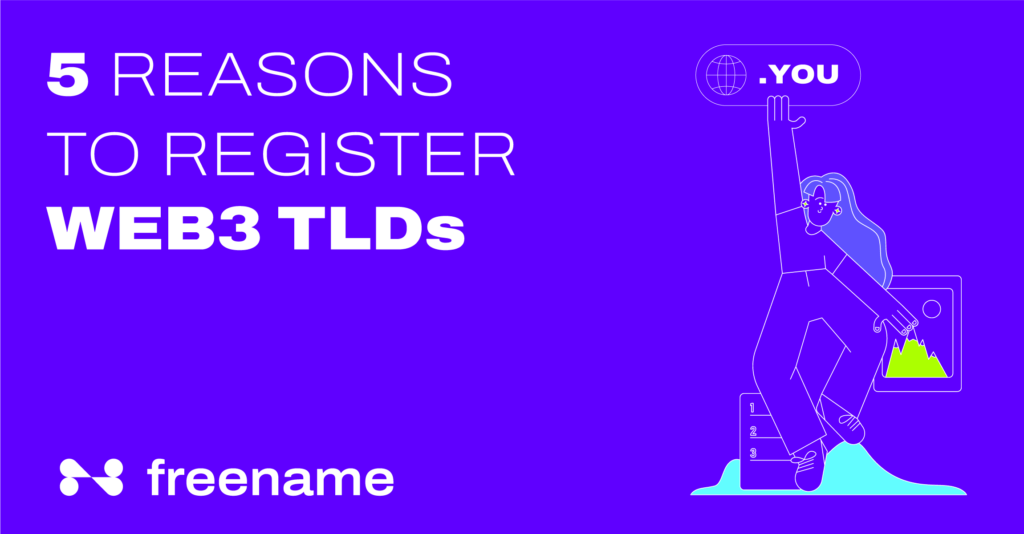 Web3 domains are a relatively recent development in web hosting, and they have several advantages over conventional domains. Web3 sites use blockchain technology to establish a decentralized system, thereby enhancing users' internet safety, anonymity, and agency.
They can function with other blockchain-based systems and are immune to control. This article will discuss the 5 benefits of creating a Web3 TLD. Web3 domains are the latest and new space with so much relevance and contributions to the blockchain network. You must have some questions that need answering. As you read on, we will convince you why you need to register your web3 TLD. More importantly,  why you should choose Freename for the task.
What are the reasons for registering a Web3 TLD?
Registering a Web3 TLD is a good method to secure your internet existence in the long run. Web3 sites are anticipated to play a larger part in the Web3 domains and other blockchain networks'  ecosphere as blockchain technology gains popularity. The best part about the web3 eco-space is that you can take things up a notch which brings us to registering a TLD or a couple of TLDs as you wish. When you register a TLD, there are some of the things you'll stand to enjoy in the long run:
Full Authority Over Other domains
When you hold a Top-Level Domain (TLD), also called a "generic top-level domain," you have full authority over all domain names that use that TLD on the decentralized network. This includes registering subdomains (SLDs) under that top-level domain (TLD). 
Owning a top-level domain (TLD) gives you the power to register, manage, and sell domain names inside your TLD. A portion of the registration fee is passively generated each time an SLD is registered under your TLD. As more and more individuals register SLDs under your TLD, you may start to see a steady flow of cash.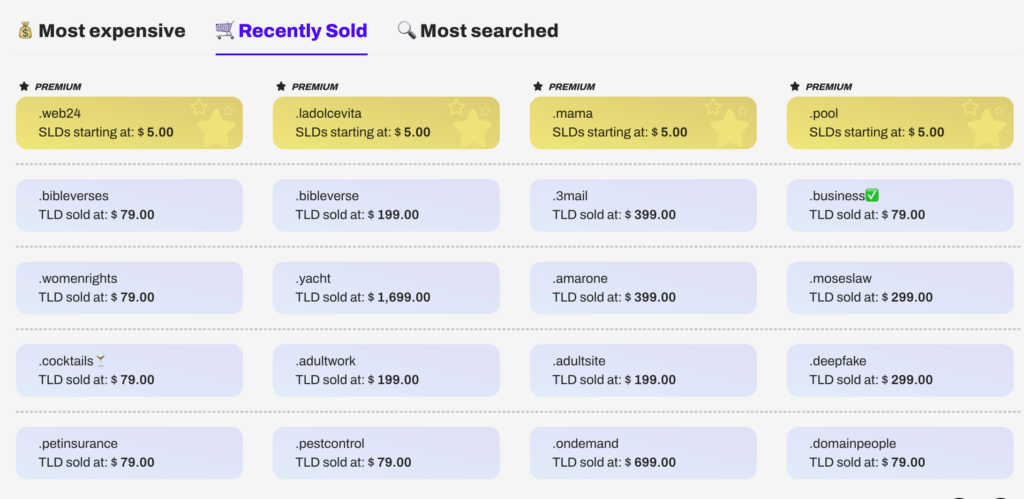 Decision maker and Price regulator
A TLD holder has the authority to determine the cost of second-level-domains (SLDs) that lie under their TLD. This gives you the leeway to make adjustments to the rates based on market conditions or the popularity of individual domain names. If the demand for certain SLDs rises, your TLD could generate more passive income if you have this level of control.
Safety and decentralization
The decentralized nature of web3 TLD is one of their key advantages. They are held on a blockchain network, making them impervious to censorship, hacking, and other forms of attack. This is in contrast to traditional domain names, which are administered by a centralized authority. In other words, consumers won't have to rely on any other platforms to manage their data or identities online. It gives its users full custody of their web3 domain while enjoying the anonymity that comes with it.
Possibility to make unique TLDs
Top-level domains (TLDs) are a way for businesses, communities, and individuals to establish an online identity; with web3 domains, anyone can generate their own unique TLDs. This allows you to create a distinctive online identity and presence that serves your individual purposes.
Why Choose Freename for Registering a Web3 TLD?
Web3 domains are a cutting-edge method of protecting one's online identity and data. It has arisen in recent years alongside the widespread adoption of blockchain technology. Regarding acquiring top-level domains (TLDs) on Web3, Freename is your best bet, as they provide a secure and straightforward platform. For those seeking to establish a Web3 TLD, Freename sticks out for the following reasons:
Unlike other platforms, Freename offers a nearly unlimited variety of TLDs – all kinds of names, numbers, even emojis. Moreover, in addition to the second-level-domains (SLDs) under all those TLDs, users can acquire the TLD itself. 
Those unfamiliar with Web3 names will find Freename's interface intuitive and simple to use. The signup procedure is uncomplicated and easy to follow, with detailed directions provided at each stage. Web3 TLDs are organized to make it simple for users to peruse their choices and pick the best choice.
Freename's low prices are just one more cause to use their service. Web3 TLDs can be purchased reasonably, making them available to both people and companies. Users can get all the advantages of an open Web3 name without spending a fortune doing so.
Web3 top-level domains (TLDs) are also available in abundance through Freename. It has common options and more unusual ones like .metaverse, .hold, and .lambo. With so many options, users can find a Web3 TLD that is perfect for their purposes.
Freename places a premium on keeping its customers' personal information and internet identities secure. They employ cutting-edge cryptography and security protocols to safeguard their network and users' data.
The Web3 TLDs offered by Freename are listed on the blockchain network because Freename is a decentralized website. Those who value privacy and freedom of expression online will appreciate this choice. It provides greater protection and resilience to censorship.

When it comes to creating Web3 TLDs, Freename is a trustworthy and straightforward service. It's a fantastic option for anyone seeking to invest in a Web3 domain for improved security, privacy, and control over their online footprint. It is due to its affordable price, flexible configuration options, dedicated security, and decentralized approach. You can register your Web3 TLD today on Freename, and rest assured that it is legit and safe.
Conclusion
Web3 names are a revolutionary new approach to web hosting and digital personas. Web3 domains provide enhanced security, anonymity, and control over an individual's online identity. This is done using blockchain technology to establish a decentralized, secure, and flexible platform.
Web3 domains are an intriguing window into the future of the internet, as they are censorship-resistant and have compatibility with other blockchain-based platforms. It hints at the increasing importance of blockchain technology in influencing the web. Investing in the internet's future and its possibilities can be done by purchasing a Web3 TLD. Whether you are a company or an individual looking for greater control over your online identity, you can benefit from it.