Domain Privacy and WHOIS Lookup Explained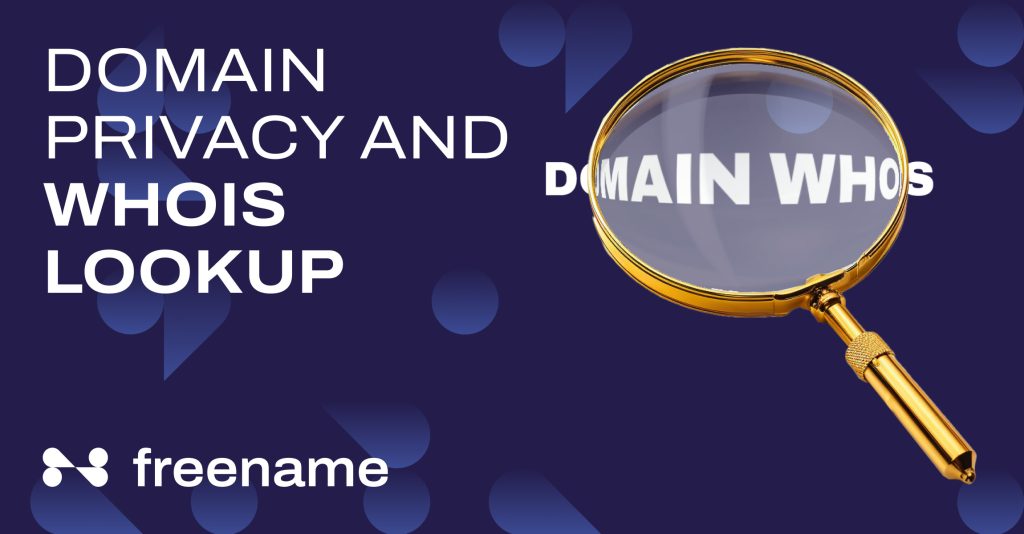 Domain privacy and WHOIS lookup are two closely related terms about domain names. If you own a website and have a domain name registered with a domain registrar, domain privacy and WHOIS lookup can benefit you.
Let's understand the two concepts.
What is domain privacy?
Domain privacy is a security measure provided by domain registrars. As per the norms of ICANN, each registrant (owner of the website) has to provide personal information like name, address, email address, and more to the domain registrars. They are then stored publicly in the WHOIS database.
Any internet user can access this information from the public database for legitimate and non-legitimate reasons. However, when your contact information is publicly displayed, it can breach your website's security and even encourage spam emails. You can also fall prey to domain-related cyberattacks like phishing, DDOS attacks, and more.
Domain privacy protects you from such unknown risks. While you cannot avoid sharing your contact information with domain registrars, you can conceal it using domain privacy protection.
How does domain privacy protect the personal information of the registrant?
Domain registrants can opt for domain privacy protection. It is a service by domain registrars to protect their personal contact information from being directly accessible to the public.
To do so, the domain registrars replace the information in the WHOIS database with generic information. This means the real contact information is concealed/replaced with a special message like 'redacted for privacy' or 'withheld for privacy purposes.' The email address is replaced with a random one, which belongs to a privacy service.
This allows both registrants and registrars to comply with the rules of ICANN and, at the same time, keep the information safe.
What is a WHOIS lookup?
WHOIS lookup is a service through which anyone can extract domain name information. It gathers data from the WHOIS database, providing details such as the domain name's expiration date, the personal information of the domain registrant, the registration date of the domain name, the hosting location of DNS, and other essential information.
You can also use a WHOIS lookup to find the availability of a domain name. If no results are found on entering a domain name, the domain name is considered unavailable.
However, in cases where the domain name entered has domain privacy enabled, the WHOIS lookup will show the concealed information provided by the domain registrar rather than the original information.
Freename provides WHOIS information lookup for free. To use a WHOIS lookup, you have to enter the domain name, wallet address, or TLD in the WHOIS lookup search tab.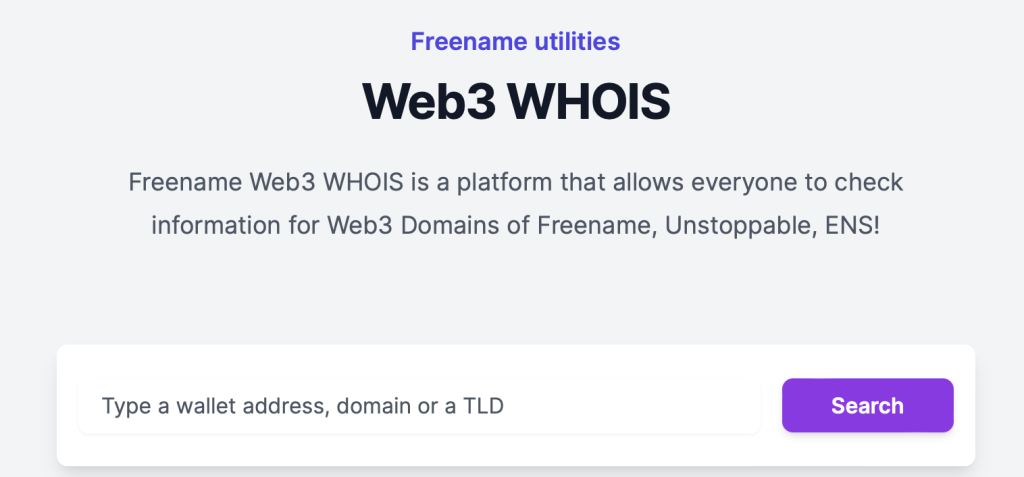 Is WHOIS lookup data accurate?
As per the rules of ICANN, both the registrants and registrars are responsible for updating the information in the WHOIS database. Refusing to update the information or failing to update it can lead to the suspension of domains.
The ICANN also allows internet users to file complaints if they find WHOIS lookup service data false or incorrect. The ICANN then provides a few days for the registrar to verify and correct the information.
To answer, always use a proper WHOIS lookup service to ensure data accuracy.
Can you get domain privacy for free?
Yes, many domain registrars provide domain privacy protection for free, while some offer the service at a price.
Some WHOIS lookup services fetch the domain name and TDL availability. In case the entered domain name is already used, it shows as domain protected. This means that the domain name or TDL entered has already been associated with some brand, organization, or identity and does not reveal any further information about the domain name.
Instead, it suggests alternative domain name suggestions.
In short, domain privacy safeguards the personal contact details of domain registrants by preventing them from being publicly visible on the WHOIS database, which can be accessed by internet users through any WHOIS lookup service.
A domain privacy service is provided by domain registrars (those who register the domain name) as a safety net to replace their personal contact information with generic information when displayed on the WHOIS database. This is a legitimate way to keep your information hidden and prevent its misuse by miscreants.