Freename Update: Eleonora Bellotto joins the team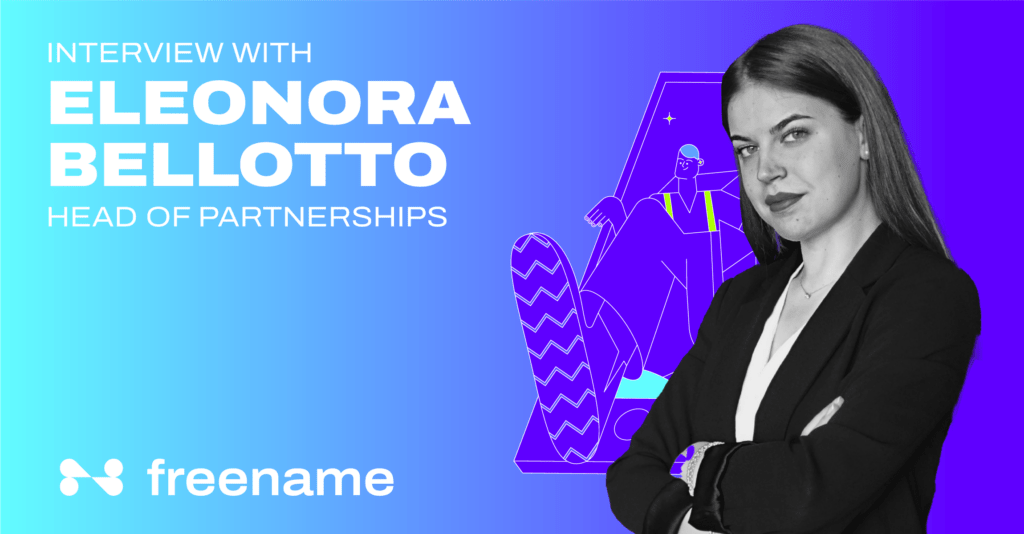 Freename is pleased to announce that Eleonora Bellotto has joined the team as Head of Partnership with a focus on the B2B world.
Hello Eleonora and welcome, how would you describe yourself in a nutshell?
Hi, thank you! I would say: curious, extroverted and enthusiastic. I really love learning and being exposed to new environments, people and cultures.
What inspired you to join the Freename team?
Most of all, the trust that Davide, the CEO, has put in me and my capabilities from day 0. Also, the opportunity to take part at an exiting project together with really smart and amazing people.
What fears did you have before choosing to leave your role in Revolut, given also your M&A background?
With a background in Finance, I had little knowledge of the domain industry and Web3, so my biggest fear was to not be up to the role. I'm really grateful for the trust the team has being putting in me.
What are you currently involved in at Freename?
I'm currently responsible for B2B and Institutional Partnerships, so I'm involved in creating and taking care of relationships with Freename's stakeholders. I enjoy it very much, it allows me to learn everyday something new.
What do you think are the three strongest aspects of Freename with a newcomer's look?
I would say the team, who is really passionate and supportive; the project, which is really exciting and ambitious; and the commitment Freename has to bring and create something new and disruptive.
What benefits do you feel you bring to the growth of the company?
Between my academic and professional experience I had the opportunity to live in different countries and work with different sectors and people, so I learned how to adapt and be flexible in every situation. In Freename I'm bringing this plus all my commitment and eagerness to learn, my curiosity and the willingness to be part of this amazing company!
Thank you Eleonora for this interview! If our community has any questions for you, they can contact you via email at [email protected]?
Of course, I'm always happy to get in touch with the Freename community!