Freename's First Birthday Celebration Giveaway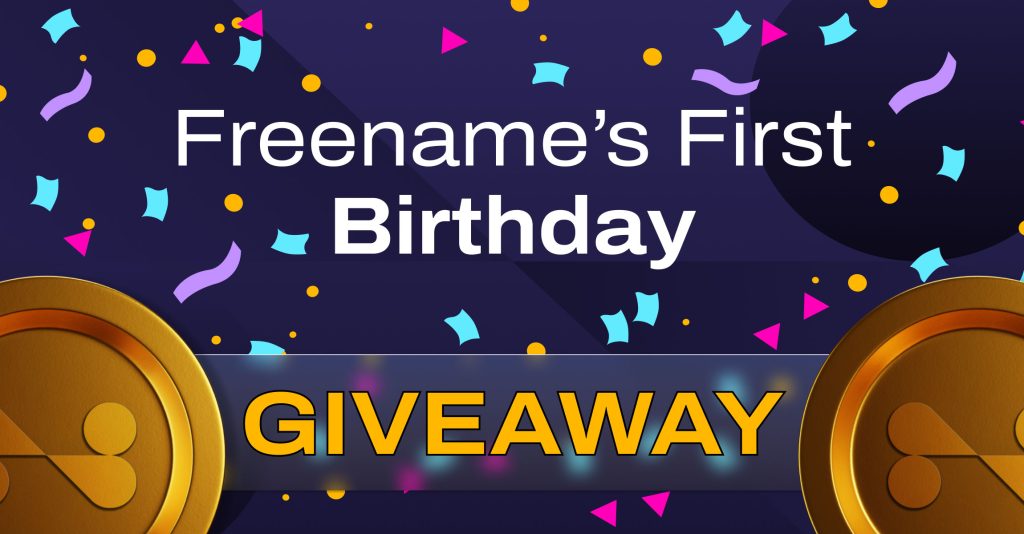 We turned one! This indeed calls for a celebration. On this special milestone, Freename is giving $30 in credits to both existing and new customers. The best part is you can spend it on Freename.io however you want. The giveaway is our way to extend our special thanks to our customers, as we are nothing without your support.
How do I claim the $30 in credits?
If you are an existing customer of Freename, you can simply log in to your Freename account to claim the $30 credits. In the checkout section, choose how many of the 30 credits you want to redeem.
If you are a new customer, you can sign up on Freename.io to redeem this exclusive offer. When coupled with a new user bonus code, you have the opportunity to grab your first domain at the cheapest price.
What can you buy with $30?
Our customers can use $30 credits to buy web3 domains and top-level domains with no hidden terms and conditions.
Our web3 domains start at as low as $5.00. We suggest you do not miss out on this amazing opportunity to get your first web3 domain for free.
Buying a Freename Web3 domain comes with its own utilities. You instantly can become a part of web3 WHOIS, get access to Freename explorer, surf the internet, name your wallet, create your own web3 website using website builder, become a web3 domain registrar, mint web3 TLDs on Aurora, Polygon, and other cryptocurrencies, and most importantly, be the owner of your own digital identity.
But that's not all! All this would not been possible without the active support of our partners. We want to take a moment to reflect on our partnerships in our first year.
Imbibing partnerships with industry leaders
Our continuous quest to join hands with the industry's best talent has allowed us to create more business opportunities. Undoubtedly, it also helped us serve our customers better.
Some of our remarkable collaborations that are a big part of our Freename ecosystem include:
Web3 video conferencing services with Huddle and Meet With Wallet, which help businesses use decentralized web conferencing tools for collaboration and seamless communication,
Web3 website builders like Pazly and QuickBuild enable users to build their web3 platform in less time and cost
Web3 forms survey integration with Blocksurvey that enables businesses to know their audience better with AI-driven generated surveys
Web3 email service with Mailchain, LedgerMail, the world's first decentralized email solution that provides more privacy, prevention, security, interoperability, and more
Integrations with blockchain partners like Alltoscan, Young Platform, EDA, and more
Furthermore, Freename looks forward to continuing to thrive with these partnerships and joining hands with new partners along the way.
All of these partnerships have helped us provide cutting-edge utilities to our customers and build a platform committed to Web3's special features of interoperability, decentralization, and privacy.
Thank you to our customers and partners for being a part of our journey. Make the most of our gift. Here's to celebrating many more birthdays and anniversaries!