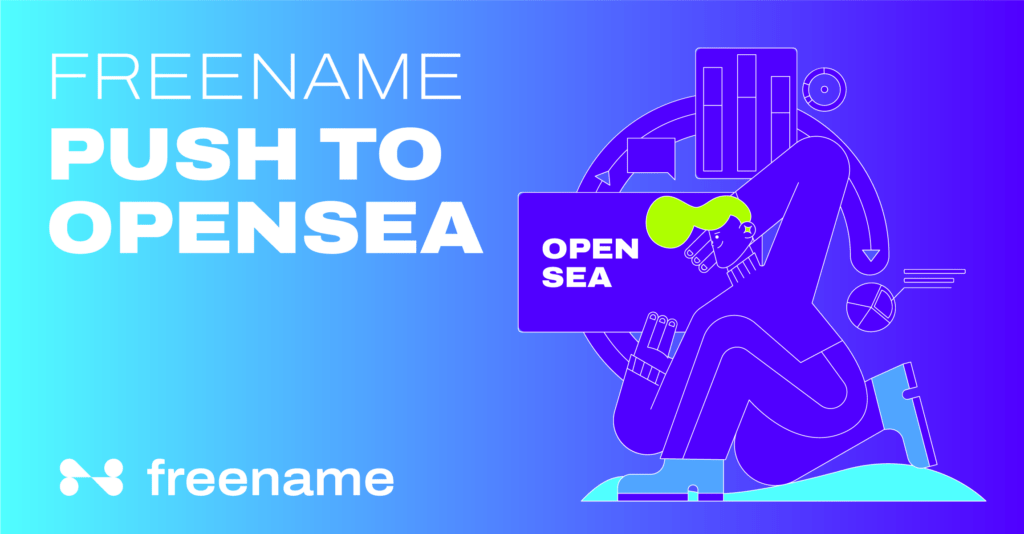 Freename has now streamlined the process for publishing your TLDs onto OpenSea! Instead of letting users figure out how to sell and trade their Web3 domains and TLDs, Freename.io has built a seamless integration for users to directly access the OpenSea market with just a click of a button.
What is OpenSea
OpenSea is a marketplace like eBay, Etsy, and Amazon, but all of the items listed are unique digital collectibles called NFTs that users can buy, sell, and mint. The platform is a decentralized peer-to-peer exchange that lets users do business directly and without trusting each other. Most of the trading of NFT assets takes place on OpenSea, which is the largest NFT marketplace.This graph shows the next best competitor to OpenSea. This is one of the reasons why the Freename.ioteam focused primarily on improving the integration to OpenSea. The exposure, liquidity and demand present on OpenSea will help Freename users to find better and more lucrative opportunities to trade their Web3 domains and TLDs.
If you wish to see special features that would easily link your Web3 domains and TLDs to other NFT marketplace, feel free to contact us, we always work with the help and feedbacks from our community.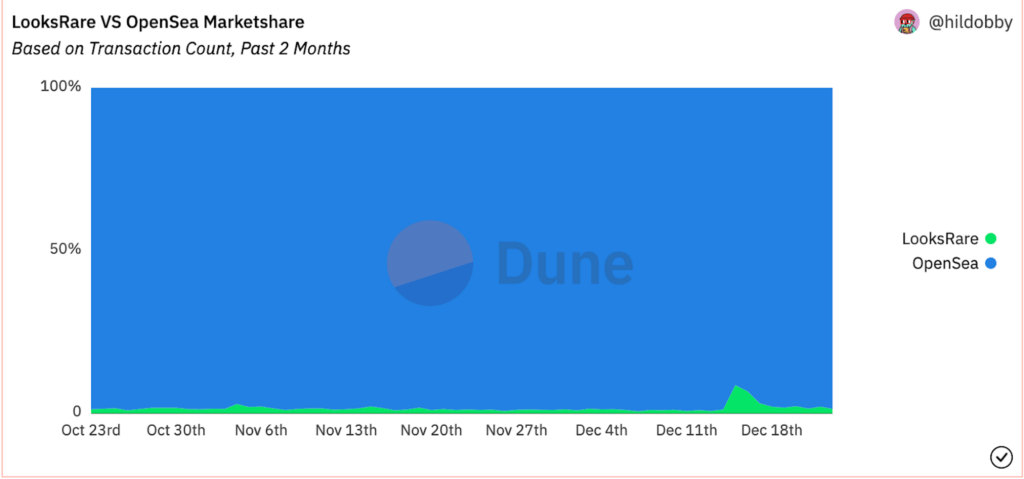 How do I sell my Web3 domain/TLD on OpenSea?
Click on your profile/name. After, go to the "portfolio and incomes" section to view all your TLDs and domains
The Freename team has built an integration to streamline the process for users to easily sell on OpenSea. You will not be able to sell it on OpenSea if you have simply bought it:
your Web3 TLD/Domain has to be minted

They have to be minted on the Polygon blockchain
You can find a detailed video that will show you step by step how to sell your domain on OpenSea in a quick and intuitive way, click here.
What is the difference between minting and buying a domain/TLD?
Buying **is the process of recording a transaction on Freename's database and not on the blockchain.
Minting is the process of pushing a user's domain from Freename.io data onto the public ledger of a blockchain and into a user's wallet
Minting on Freename.io is as simple as the following steps:
As soon as you open up the Freename.io website, a search option will appear. Enter the TLD (or domain) that you wish to buy.
If the TLD (or domain) is available add it to the cart. If the TLD (or domain) is protected it means it has been associated with a brand, organization, or notable person.
Once it has been added to the cart, click on go to checkout.
You will be required to create a Freename.io account, after which you can purchase the TLD (or domain) with a cryptocurrency or credit card.
Once purchased go to the "portfolio and incomes", where there will be the option to mint a single TLD (or domain) or in bulk.
For more information on the differences between minting and buying domains/TLDs, click here.
How does this help me?
Having easy access to the OpenSea market gives Freename users the exposure to demand to help facilitate necessary and potentially lucrative deals. Passive income is becoming more popular given our current economic environment and strategies such as domain flipping are gaining adoption.
Domain flipping is when you predict and invest in domains that you believe will be valuable in the future.. You buy the domain once, and sell it when the right time comes. A valuable strategy to implement is the '.com 4L' where you buy 4 letter domains like DELL, EBAY, KPMG, etc. While Web 2 domains are already taken, buying on Web 3 registrars like unstoppable domains can give you the edge, if they decide to expand into Web 3.
If you want to sell your Web3 domains and TLDs on the largest NFT marketplace, OpenSea, then look no further than Freename.io's seamless integration. With just a click of a button, you can access the decentralized peer-to-peer exchange and take advantage of the high liquidity and demand on OpenSea. Just remember to set up your account with OpenSea before you sell your Web3 domain/TLD!