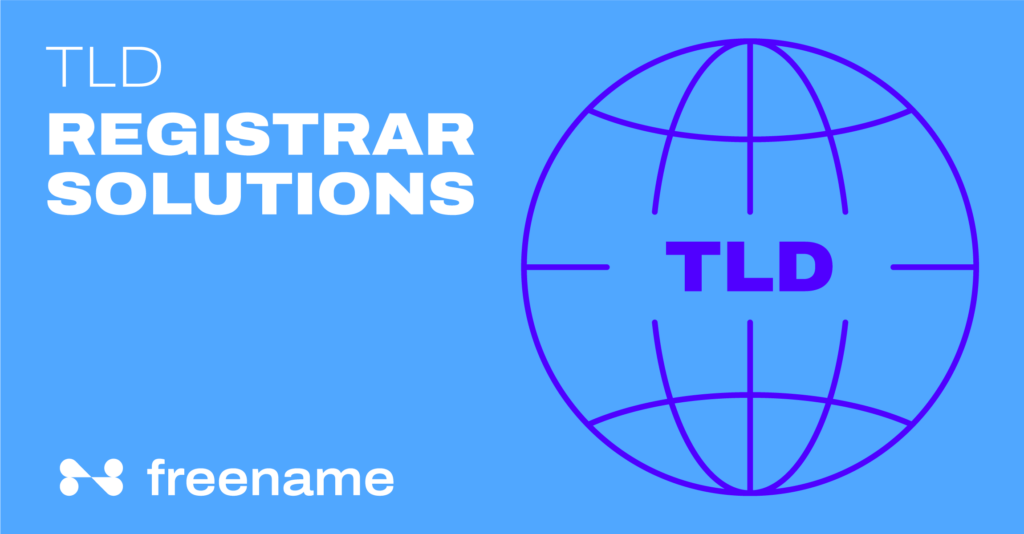 TLD registrar solutions are simply the solutions or services a top-level domain registrar provides its clients, the registrants.
It is impossible to have a website without obtaining a domain name as it is essential when establishing one. A domain serves as both an identity and an address for your online residence on Web3. Online registration is required to obtain a domain name, and here is where the role of a TLD registrar solution comes into play.
What is a TLD?
It is the acronym for top-level domains.
The final portion of a domain name—the bit that follows after the last dot—is known as a TLD, or top-level domain. For example, in the web3 domain name 'wp.freename.io', '.io' is the TLD.'. The most prevalent TLD in web2 is .com, but there are a plethora of others.
Three different TLD types are recognized by the IANA as valid:
  Generic Top-Level Domains – gTLDs examples include;
    .com – for commercial sites

    .org – for organizations

    .net – for networks

    .info – for information platforms

    .biz – for businesses
  Sponsored Top-level Domains (sTLD). Examples include;
    .edu – for higher educational institutions

    .gov – for United States governmental agencies

    .cat – for Catalan linguistic and cultural community

    .museum – for museum organizations

    .travel – for travel industry businesses
  Country Code Top-Level Domains (ccTLD). Typical examples include;
    .us – for the United States

    .es – for Spain

    .fr – for France

    .it – for Italy

    .br – for Brazil
All these are top-level domains of Web2.
Then, we have the new TLD of the Web3 such as .eth, .wallet, .moon, .metaverse, etc. All working and serving their respective purposes just like the traditional TLDs would do in Web2.
A TLD plays an important part in the Domain Name System (DNS).
To fully understand what makes a domain top-level, examining the complete structure of your domain name would prove helpful.
Any domain name will consist of a string of characters—words, letters, or numbers—connected by a dot. For instance, send.my.crypto consists of three words and two dots.
Each "dot" denotes a separate section and aids computers in locating the appropriate material (like a web browser). Additionally, every section has a unique "level." You work your way up in numbers starting at the top-level (thus the TLD).
In this case;
❖     Top-level domain is .crypto
❖     second-level is .my and lastly,
❖     third-level is send, also known as the subdomain in this instance
Therefore, whenever you are purchasing or registering your domain name, you are opting for both the top-level domain (such as ".crypto") and the second-level domain (such as ".my"). You may then add further levels (such as the third-level subdomain "send") from your hosting panel. 
With a Web3 domain, all of our activities, including collaborative works and public assets will be linked, which makes it possible to utilize decentralized, person-centric data effectively.
Understanding the Domain Trinity
When trying to purchase or register your Web3 top-level domains like .metaverse, .hodl,  or .moon domain name via a cutting-edge provider like Freename, the domain name registration procedure is incredibly easy. However, the straightforward exterior conceals a good deal of technological complexity that users like you may wish to comprehend to make the best choices for themselves.
We'll examine the three key participants in the process of domain registration:
  The registrar, presumably the other party from whom you, the registrant, purchased the domain; an example of this registrar is Freename.

    The registry, the location that formally recognizes your ownership of your domain;

  And the registrant, the individual requesting to be the owner (for a while) of a domain. That is you.
Who is a TLD Registrar?
Registries used to be the only registrars for their TLDs back in the early days of the internet. The common registration system we presently have was intended to prevent them from misusing their monopolistic position. This brought about pricing competition, improved user interfaces, and beneficial supplementary services. For Web2.0, in 2021, the registrar database has nearly 700 entries that have received ICANN certification.
A TLD registrar solutions is a company that handles domain name registration and management. Its role is to make the process easier for customers to register domains successfully. For example, Freename a domain registrar aids a user in acquiring and maintaining a domain name.
With Freename, You could become your own Web3 registrar and earn from it.
Users of the Freename protocol can profit similarly to a Web2 registrar like GoDaddy. Whenever a Web3 domain is registered on a user's Web3 TLD after they activate the Royalty license on Freename, they get a certain percentage of the domain name registration fee. Imagine owning anything you want, like ".metaverse" or ".airdrop." Why are you holding out?
Web3 Registrar Advantages
To ensure that domains are accessible and to avoid that very same domain from being registered by two people simultaneously through two distinct registrars, a web2 TLD registrar must adhere to the procedures established by ICANN. In the event of multi-year registrations, it must set up recurring payments from its clients and transfer the necessary amounts to the registries and ICANN. This is not the case in web3 TLD registration. There are no rules or a governing body. Rather, web3 TLD registrars themselves utilize cutting-edge technology that ensures no single name is repeated, registered, or minted twice.
A Web3 TLD registrar can offer domains from many registries for sale. If mypayment.crypto for example is not available, it may recommend mypayment.token as an alternative. Even if the domain you looked for is already registered, it is helpful to have the registrar provide a list of alternative TLDs that you might wish to register to safeguard your brand.
Conclusion
In conclusion, TLD registrar solutions provide registrants with the necessary tools and services to manage their top-level domain names. These solutions allow registrants to control their domains, as well as keep track of domain name expiration dates and contact information. By using TLD registrar solutions, registrants can ensure that their domain names are properly managed and maintained. Freename is here for you to make every single step of your domain name registration simple.
Start your Web3 journey with Freename TLDs and Domains. Sign up now and get a welcome coupon code of 10$ on your first purchase.