Experience Web3 Domain Meetings on Huddle with Freename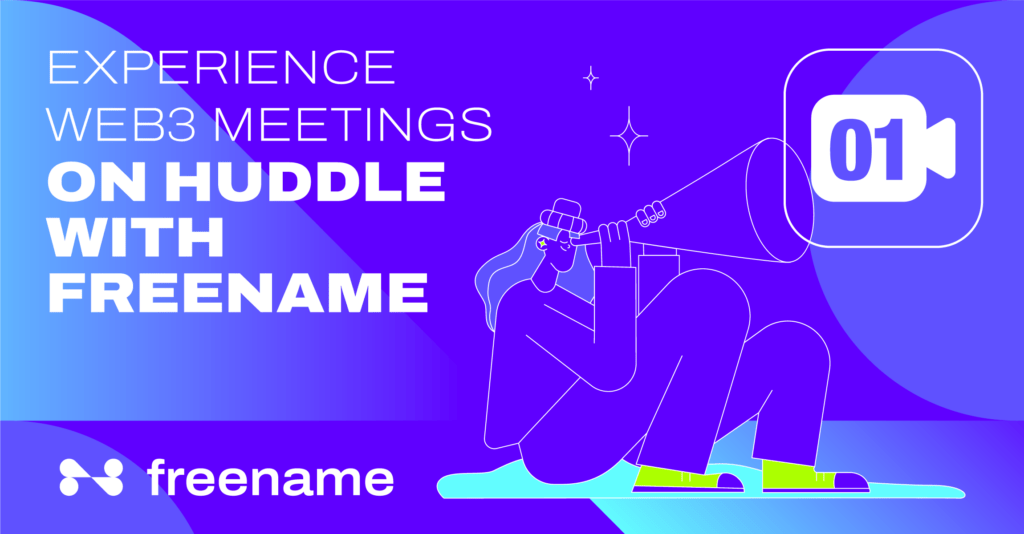 NFT domains have recently been a significant trend in the blockchain space. Regardless of their popularity, most providers must add videoconferencing and meeting options, to make web3 domain meetings possible.
Freename and Huddle are two leading companies in the online services space. Huddle was founded in 2019 by two college friends. This Web3 platform started from an ingenious idea these friends had while participating in a Hackathon called EthGlobal. This idea birthed their creation of a peer-to-peer decentralized video conferencing product called cardbury01. After winning the hackathon with tons of prizes, the dream of making huddle became a reality.
This company offers open, scalable, decentralized real-time communication between businesses and individuals. Users of this platform do not worry about security issues because every conversation is end-to-end encrypted; therefore, there is no reason to worry about sensitive information reaching the wrong hands.
Freename, on the other hand, is a newer Web3 private platform company founded in Switzerland. Founded in 2021, this top-level and second-level service proffers Web3 domains as NFTs to its customers. The company's worldwide customer base provides various online services, including domain name registration, Web3 hosting, receiving and sending Web3 emails, navigating the internet, and accessing dApps. Freename is known for its reliable and secure web hosting services, backed by a 99.9% uptime guarantee and 24/7 customer support.
Recently, the two companies announced a partnership that will allow them to offer their customers a seamless way of communicating on the Web3 platform via web3 domain meetings.
What is the partnership between Freename and Huddle about?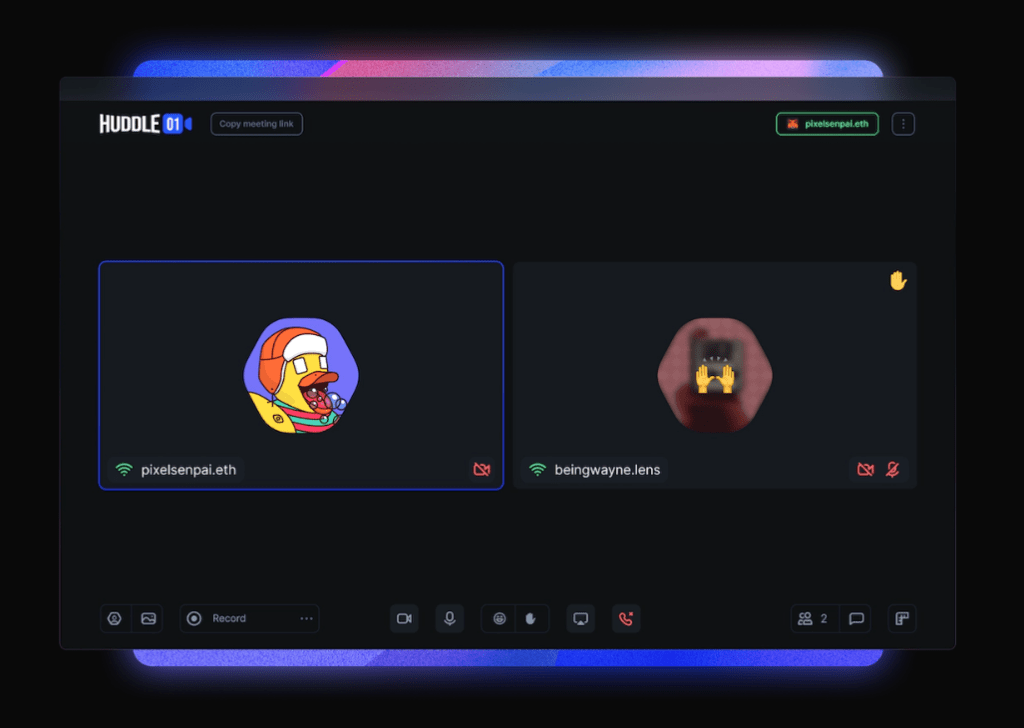 The partnership between Freename and Huddle is an exciting development for both companies. It will allow them to leverage each other's strengths and expertise to provide more value to their customers. By integrating Freename's Web3 domain hosting into Huddle's website, Huddle can provide a one-stop-shop for businesses and people that need to communicate with their associates and friends on the Web3 platform.
This can streamline workflows and reduce the time and effort required to manage multiple online services. At the same time, Freename can leverage Huddle's extensive customer base and reputation as a long-standing brand to expand its reach and grow its business.
Their partnership can aid them in differentiating themselves from their competitors. By offering a bundled solution that includes Web3 hosting and videoconferencing, Huddle can provide a more comprehensive solution to businesses needing both services. This can help Huddle stand out in a crowded market and attract more customers looking for an all-in-one solution.
Why do you Need Video Conferencing on a Web3 Platform?
One of the main benefits of the partnership between Freename and Huddle is that Freename customers can access Huddle's videoconferencing directly from their Freename account for web3 domain meetings. This means they can easily talk to, see and deliberate on issues with their friends and colleagues.
This feature can create a seamless experience for their users by eliminating the worry of switching between sites and apps to communicate with others on the Web3 platform. Users can have instant videoconferencing and meetings with other collaborators without signing up.
The security of a Web3 platform is another feature users look out for. Security is more critical when video conferencing is involved. Huddle's robust security features will keep all sensitive information safe and secure. This is particularly important for individuals or businesses that need to share confidential information or sensitive data with third parties. Huddle's platform uses advanced end-to-end encryption to guarantee that only legitimate users can access the meeting, ensuring secure data transmission.
Why Choose Freename Web3 Domain Meetings?
Whether you want to have a business meeting using a Freename domain or want to talk with friends, this new feature on Huddle is safe and secure for communication. Other platforms can promise safety and privacy, but this innovation promises even more.
Instant meeting: There are no rigorous processes when using this feature like other meet platforms. After clicking the meeting button, you can share the link with your friends and collaborators. Your friends can join the meeting directly from your link without any hassle.
No sign-up: There is no need to sign up with your name and other personal details; that only makes the process lengthy and tedious. This innovation lets you use the meeting feature without signing up. All you are required to do is connect your MetaMask wallet, and viola.
No fees: This feature gets even better because it gives all this for $0. You don't need to pay any fees to sign up or enter your card details; these are unnecessary.
How to Access this Feature
This feature is free and easy to access. After visiting the official Huddle website, use the start meeting option at the top right of your screen to synchronize your MetaMask wallet. Select your Freename domain from the list of options MetaMask will provide. After your selection, you can join a meeting and share it with your friends, collaborators, or business partners. A pretty straightforward process, right?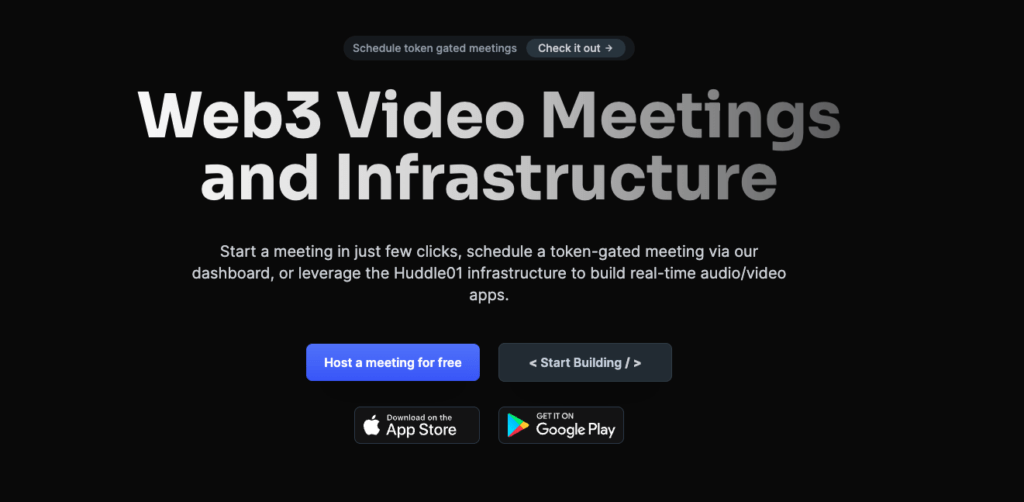 Freename and Huddle: A Fusion with Undeniable Power
Although this powerful tool is very straightforward, you must have a Freename domain to access this. If you don't have a domain, why not create one immediately? Creating a Freename domain is brief and straightforward; check the following section to understand how it works, or visit Freename.io to get more information on creating a domain name. Once you've gotten that out, you are ready to explore the various options available on the meeting feature.
How to Get Started on Freename 
Freename is one of the best Web3 platform services offering Web3 domain hosting and much more. To create a freename domain account, head to Freename.io. You will be asked to sign up with your email, Facebook or LinkedIn. After signing up and confirming your account, you can choose from the variety of domains freename offers its users. 
Conclusion
Freename and Huddle offer a seamless and hassle-free way to conduct Web3 domain meetings. The user-friendly platform and intuitive meeting management system make it easy for participants to connect, collaborate, and reach their objectives.
With features such as automatic recording, file sharing, audio-visual calling, and voting, Huddle provides a comprehensive solution ensuring every meeting runs smoothly and productively. 
Freename's decentralized approach to domain names and blockchain technology adds a layer of security and transparency, making it a perfect platform for NFT creators, investors, businesses, and individuals to meet and discuss their ideas. Overall, Freename and Huddle's innovative approach to Web3 domain meetings offer a promising solution for the growing NFT industry and its need for efficient and secure communication channels.