Freename and Mises Browser to Facilitate Web3 Browsing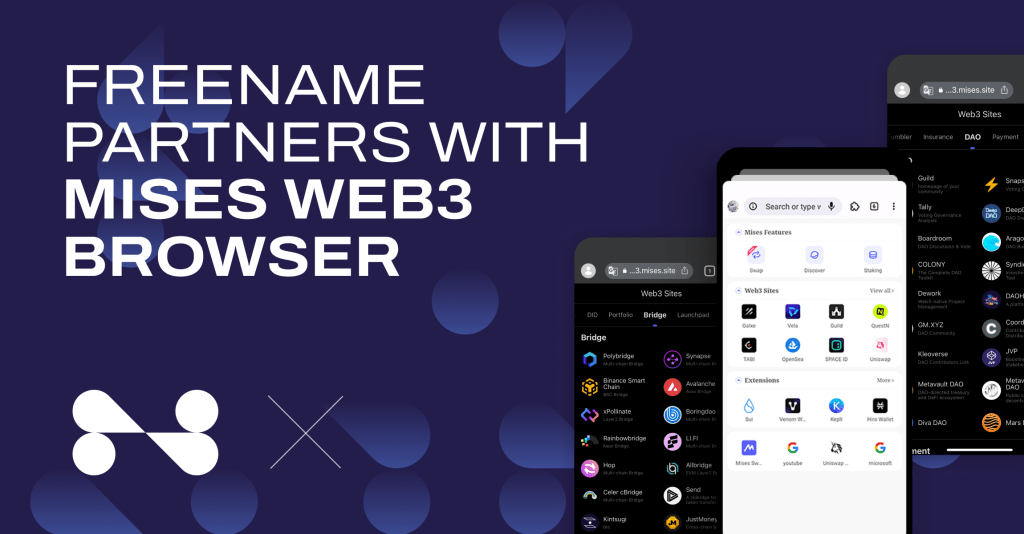 Freename has announced a mutual partnership with Mises Browser as part of its plan to advance web3 technologies. Mises Browser is the first extension-supported mobile browser for surfing web3 apps and services. The partnership of Freename and Mises Browser will benefit users of both companies and allow them to have an integrated experience.
What is Web3 Browsing?
Web3 browsing is the process of accessing web3 properties like websites, apps, and services. Unlike web2 properties, which can be accessed via user ID and passwords, accessing web3 properties requires crypto accounts. The current set of browsers lacks these accounts, which is why users can't access web3 websites.
With web3 browsing, you can gain access to apps on decentralized platforms like Ethereum. Known as Dapps, the apps would check your crypto account while authenticating your identity.
Since nobody owns the decentralized platform, anyone can join and access the properties without censorship. But a crypto wallet is a must.
Mises Browser is a Leading Web3 Browser App
Mises Browser is one of the few mobile apps currently available to access web3 websites and apps. Users can install it on their mobiles from the Play Store or App Store and discover the world of web3 on the go.
It comes with built-in crypto wallet functionality. You can create a wallet and use it for authentication purposes. Once created, start accessing the Dapps from your smartphone.
Mises Browser also curates the list of Dapps currently available. The browser aggregates more than 400 decentralized apps, and the list is constantly updated. Users can easily access every app using the wallet inside the browser.
Furthermore, the browser is heavily privacy-focused. So, all of your information used inside the browser is encrypted and owned by you. No other company or organization has access to the details unless you desire to provide it to them.
Freename with Mises Browser to Allow Surfing of Web3 Domains
Another feature of the Mises Browser is that it supports the resolution of web3 domain names. Such resolution is necessary to convert machine-readable alphanumeric characters to human-readable aliases.
In web2, this resolution was taken care of by DNS. Instead of typing the IP address into the browser, you are required to provide the domain name. DNS converts the domain name to an IP address to further process the request.
The same resolution is necessary in web3 architecture. Otherwise, you'd have to remember crypto wallet IDs or blocks that look like "0x2e11E3b40Ca0C4aba93a2C".
To save you the hassle, Mises browser has web3 domain resolution functionality included.
Prior to the partnership with Freename, Mises supported domain names that include .ens, .bit, and unstoppable domains. The collaboration now supports the web3 domains at Freename. Hence, with Mises Browser, you can access the web3 domains and TLDs purchased through Freename without any resolution issues.
To get started, users need to download the Mises Browser onto their smartphones. As a new user, you'd have to set up a crypto wallet or use your MetaMask wallet via browser extensions. Once set up, you need to open the browser and type in the web3 domain name you're looking to visit, and it should load as usual.
About Freename
Freename is a leading platform that allows anyone to purchase web3 domains and set up their web3 domain ecosystem, i.e., become a registrar. As a registrar, you can earn a commission on SLDs (second-level domains) purchased under your TLDs (top-level domains). It can generate substantial passive income for web3 TLD holders at Freename.
The partnership with Mises Browser is one of the many partnerships Freename has recently entered. This demonstrates the dedication towards furthering the web3 infrastructure and making it accessible to all.