Freename Partners with BlockSurvey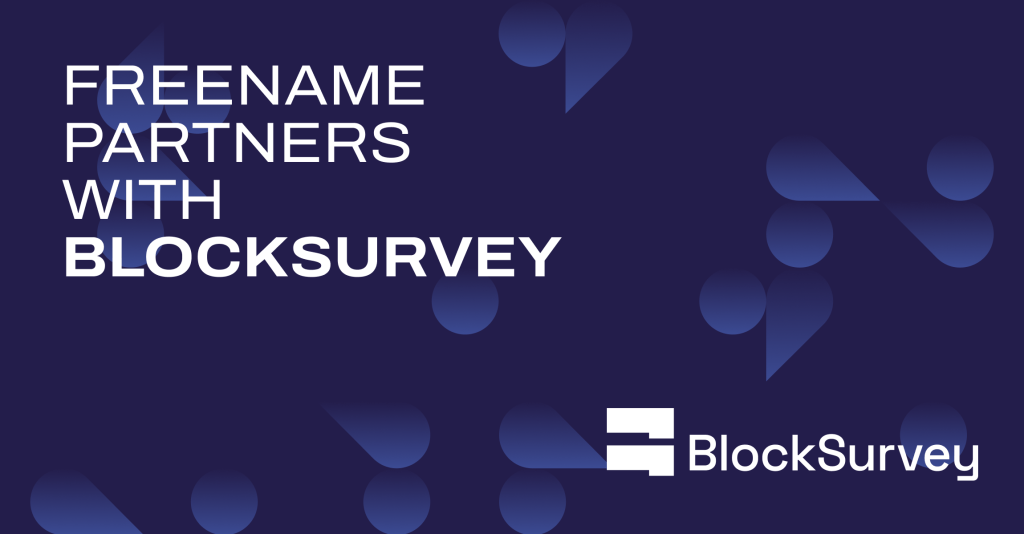 Freename has partnered with BlockSurvey to enable users to run anonymous surveys. This is a testament to Freename's commitment to advancing Web3 technology and a privacy-focused, blockchain-powered, transparent internet.
The BlockSurverys' features are open to all existing Freename users. The partnership aims to streamline the operation between the two services.
Why Decentralized Surveys?
Currently, we're living in a centralized era where big tech companies collect, store and own data. While they offer some privacy rights, it's not in its totality.
Moreover, centralized data management is prone to hacking. As per stats, there have been 73 publicly disclosed security breach incidents in August of 2023 alone.
When you conduct a survey through tools like Google Forms and collect sensitive data, Google stores the data in its centralized services. Thus, some participants are hesitant to share critical information that might be required in your surveys.
That's where decentralized surveys come in. The information collected in these surveys is stored on the blockchain. In fact, any form you create is stored on the blockchain, which allows you to have total control over your privacy. You and the person submitting the information retain their privacy, too.
BlockSurvey is bringing this decentralization to today's survey tool landscape dominated by centralization.
How Does BlockSurvey Work?
BlockSurvey is hosted on the blockchain. In case you're unaware, blockchain is a digital ledger with no central controlling authority. It is owned by the network as a whole.
Users who want to conduct surveys sign up with BlockSurvey using Stacks DID or Decentralized Identity. This is anchored in the blockchain and isn't owned by BlockSurvey or any other company. Thus, they remain anonymous.
Participants who want to respond to surveys can sign up using the same mechanism and stay anonymous. They decide how much and how sensitive information they want to share and stay in complete control of it. No one, except the survey creator, has access to the data.
BlockSurvey employs end-to-end encryption to prevent data leakage.
Once you store data on the blockchain, it stays encrypted, and only the survey creator has access to it. Even if hackers steal the information, they can't decrypt it.
Using BlockSurvey with Freename
With the partnership, Freename makes decentralized surveys available to its existing users. They can sign up with BlockSurvey using the same credentials, create anonymous forms, and host the surveys on the blockchain. Participants can take the surveys and record their responses to the same blockchain.
Besides that, all other features, like multilingual surveys, randomized question sets, and input validation, are available to Freename users.
The strategic partnership also allows BlockSurvey's users to seamlessly explore the Web3 TLDs of Freename.
About Freename
Freename is a Web3 platform that allows anyone to set up their web3 domain ecosystem. As a customer, you can buy customized top-level domains (TLDs) and earn royalties whenever someone buys a second-level domain (SLD) attached to it. This is a great way to build a web3 business and earn passive income.
We adopt a multi-chain approach and host our platform on several blockchains like Polygon, Cronos, and Binance. To pioneer Web3 domain architecture, we value privacy and transparency. The partnership with BlockSurvey is a small step towards that commitment.