Freename Referral Program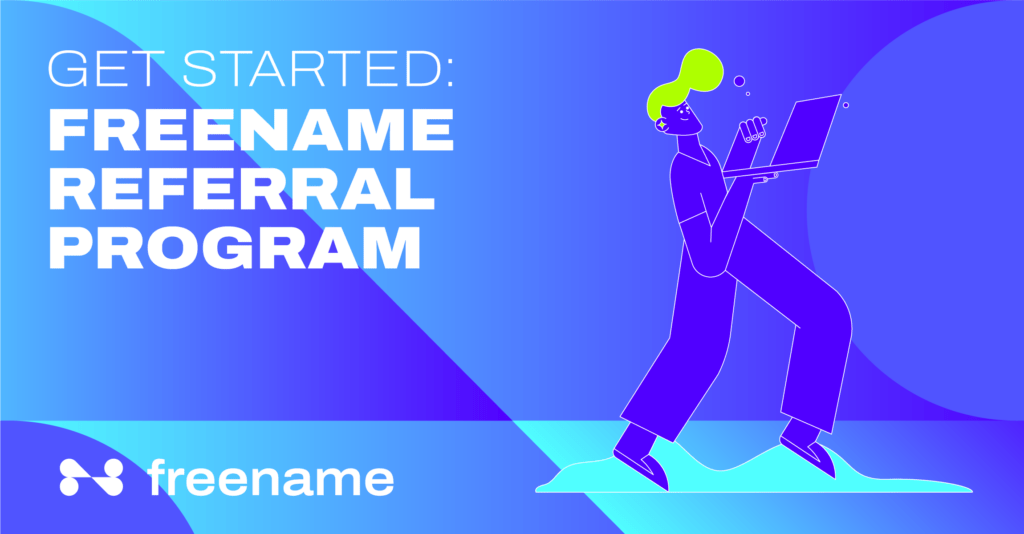 Passive income is a desirable attribute for many Web3 users. There are many ways to generate passive income. Staking, equities, and interest-earning accounts are a few examples. The core problem with these strategies is behind how passive they are.
Web 3 firms like Freename.io are building many solutions to help empower people and their incomes by focusing on the "passive" component. Freename.io has deployed 2 powerful Web3 domain explorers, the 'Freename Explorer' and 'WHOIS'. Both these search engines help facilitate users and businesses to not only find their perfect Web3 domain and identity, but also help them generate passive income through domain flipping.
Freename.io is also gaining wide popularity and is becoming the top Web3 registrar due to the innovative TLD royalties they offer. Freename.io, unlike other Web 3 registrars, allows you to create a TLD and earn royalties from it. The idea is to buy something that can be popular, such as ".metaverse". Future businesses are likely to purchase a domain under this TLD. Because of Freename's Royalty License, you will receive 50% of the transaction (which is embedded in their smart contract).
After much request from the Freename community, users can now receive their own unique Freename referral ID and earn an extra 15% referral fees on purchases! Freename.io continues distinguish itself by empowering their users through offering truly passive streams of income.
What is the Freename Referral system?
To get access to your unique referral link, follow these 2 simple steps:
Click on your profile
Click on "Copy referral link"
Check out this step by step demo or our YouTube demo.
In these times of macro economic uncertainty, the only way to fight the ever growing pressure of inflation is for people to build income streams to help generate passive income on the side. Users can promote their own Web3 identities and promote a positive network effect. This is one of the most organic way to increase Freename.io's publicity and depends on meritocracy, a characteristic that is key in the Web3 industry.
No one is obliged to promote. Freename only offers the ability for those who have already benefitted from Freename.io's services and want to share (and earn) by referring others. If users believe Freename.io's Web3 domains have helped with their commercial needs, build their Web3 identity or help establish their passive income strategies, they now have the ability to promote it and financially benefit from it. This is another example of Freename establishing a form of passive income to help empower its users.
Why purchase a Web3 Domain/TLD?
Web3 domains/TLDs are also more advantageous than their Web2 counter parts. The biggest advantage is that Web3 domains do not fall under ICANN's jurisdiction.
Freedom: There is no centralized body breathing down your neck while taking their commissions.
Smart Investment: Domains and TLDs will only go up in value as adoption increases.
Full Ownership: your domain, your property. You have complete ownership after you mint your domain. It is all recorded on the blockchain 🙂
Passive income: Freename.io lets you activate the Royalty license. Whenever someone registers their domain on your TLD, you get 50% of the transaction. Already have a TLD? Learn how to activate your license here.
Referred users can use Web3 domain services from Freename.io to profit from passive income strategies such as domain flipping and TLD royalties. A TLD such as ".mybusiness," for example, could be used by a large number of businesses looking to accept cryptocurrencies as payment. "XYZcarwash.mybusiness" or "ABChospital.mybusiness" are two examples. Owning this Web 3 TLD entitles you to 50% passive income whenever a company registers under your TLD.. Freename.io also charges no fees. You buy your TLD/ domain and you own it forever. There is no ICANN charging renewal fees and transaction fees.
At the end of the day, creating passive income takes time to create. Freename.io aims to not only become the leading Web3 domain/TLD provider, but to empower users and its community. The referral program has been highly requested and Freename believes that users that want to promote because they believe in their products, should also be able to financially benefit from doing so.