How can I mint a domain with Freename?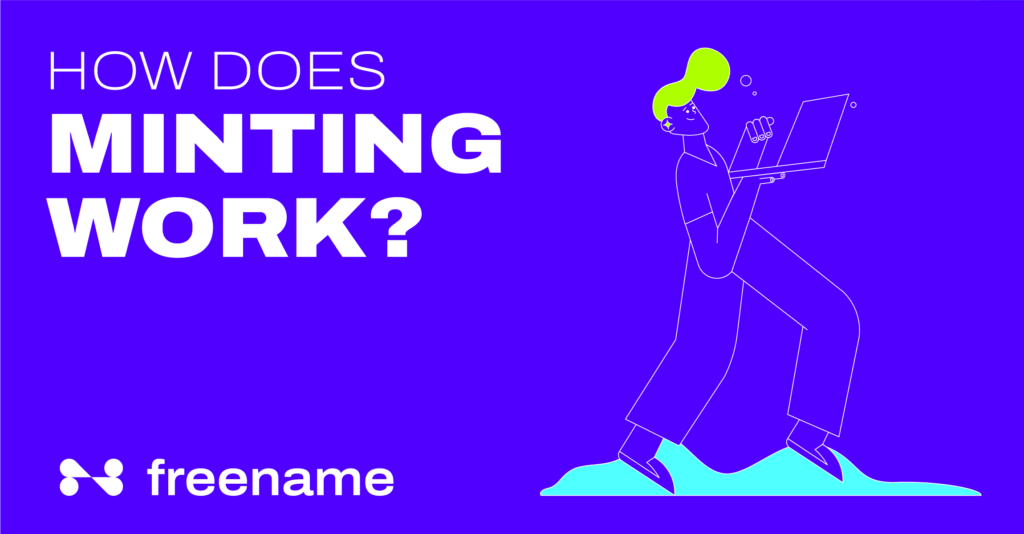 Are you curious about the prevalence of .metaverse, .moon, .chain, .airdrop, .young, .free, .xxx, .layer, .hodl, .lambo, and .token at the end of user names?
Website addresses in the Web 3.0 format deviate from the standard DNS format in important ways. A Web3 domain is a human-readable, human-chosen address that symbolizes your cryptocurrency wallet, serving as an alternative to an IP address that is easier to remember.
There wouldn't be any of this without platforms like Freename.io. When it comes to translating domain names into blockchain addresses. This platform is recognized by DNS.
What is Freename.io?
With Freename.io, you may use dApps and blockchains with a username that is both human-readable and transferable between services. Due to the complexity of the cryptocurrency market, entry is often difficult for those who are not well versed in the technology involved.
First, we will look at crypto-based financial dealings. The wallet address is a lengthy series of digits and letters that is required to submit a Bitcoin payment. The fact that each cryptocurrency has its own unique contract address further complicates maintenance and further baffles newcomers to the crypto space.
Freename.io is an initiative to standardize Web 3.0 usernames to become the decentralized internet's preferred protocol. Forget about keeping track of separate contract addresses for each cryptocurrency; with a Freename domain like "freename.dao," you may accept all NFTs and cryptocurrencies in a single place.
For illustration, consider the following:
Let's imagine your dinner date wants to reimburse you in cryptocurrency. The 42-character hexadecimal string that makes up your crypto address is displayed as "0xDC25EF3F5B8A177998338A2ADA83795FBA2D695E" in this example. For others who wish to send you cryptocurrency, this is the equivalent of your IBAN. Sharing a link to your Freename.io domain, such as "name.crypto," which resolves to your wallet address, is as easy as typing a few characters.
Freename allows you to be able to mint any domain name of your choice. You can mint and register the TLD of your choice along as there is no prior registration. Other users who would love to register on your TLD are opening you to an opportunity to earn royalties. As soon as they register their domain on your TLD, you are eligible for up to 50% passive income.
Apart from being eligible to earn royalties, you can as well sell your registered or minted TLD or domain for even higher rates. These are how you can earn massively via the web3 domain and TLD.
Other benefits include:
To facilitate the receipt of any cryptocurrency or NFT, Freename provides human-readable domains for all your cryptocurrency wallets, websites, content hashes, and metadata. This way, your Freename.io domain can serve as your Web3 username, linking all your addresses and websites under one nickname.
It is "a distributed, open, and extendable naming system" that provides blockchain-backed, decentralized domain and search engine name resolution. Since Freename.io is decentralized, no single organization has authority over it. Because there is no central hub, Freename.io is more reliable and secure than centralized naming services.
5 reasons why you need a Web3 domain
Below, we will go through the top five reasons why you should get a Freename.io domain, from its enhanced capabilities (such as the ability to double as a wallet address) to its one-of-a-kind perk of never needing to pay renewal fees.
● No recurring renewal costs
Your Freename.io domain is yours to own and governs for all times, unlike standard .com domains, which require annual renewal payments. Once purchased, ownership is forever yours.
● Payments in cryptocurrency are always processed without a hitch.
You can stop worrying that your funds may vanish into thin air (pun intended). Use a Freename.io domain as your centralized username to store all of your cryptocurrency wallet addresses (which are comparable to bank account numbers and may look like this: 0xDC25EF3F5B8A177998338A2ADA83795FBA2D695E).
● The ability to connect to many chains
More than 275 cryptocurrencies and tokens are already compatible with your NFT domain, and this number is expected to grow. Now, irrespective of the blockchain network, navigating cryptocurrency transactions is a breeze.
● Take charge of your Web3 persona
Having a stake in the new Internet will become increasingly vital as the globe shifts to Web3. If you own Freename.io, you may be assured that your online reputation will survive the arrival of the next big thing in computing.
Why mint on the Freename.io domain?
Freename is a platform that allows users to register and mint their own Web3 TLDs on whatever blockchain they choose. Top Level Domain, or TLD, refers to the text that comes after the period in a URL (in the case of name.crypto ".crypto" is the TLD).
You also can make your own version of your preferred Top-Level Domain Name System for the web3. Every time one of your Freename TLDs is used to establish a new domain, you'll get paid. This is a unique option, unlike other web3 TLD minting platforms.
What are the benefits of registering a domain extension with Web3?
Branding: The importance of having a unique recognition in the Web3 space is important. You can get your own unique Web3 name. Get names that are particular to your brand or style. In addition, a Freename Web3 TLD trademark registration can provide you with global legal protection for your domain name and logo.
Royalties: Get paid to let other people use your TLD. There is an opportunity to earn passively through this means. It is now possible to become your own Web3 Registry with the use of Freename TLDs. You can activate royalties after you own a TLD to collect 50% of each domain registration made on your extension.
Web3 Identity: Your name serves as the umbrella under which all of your credentials, wallets, and NFTs are organized. You can use this type of NFT for online purchases and other Web3 features. These top-level domains (TLDs) and domain names can be created, minted, and used with Freename for usage in web 3.0 applications.
How to mint on Freename.io
Firstly, you have to create an account. Click on the profile icon on the top right corner with login inscribed under it. Then it will take you to a page where there is a login option with sign-up below it.
Click on the signup option and you will be directed to a page where you'd be asked to input some information like your first name, last name, email, username, and password, and then confirm the password.
Then, go on to register your account.
From there, you'd be able to access options like search, marketplace, and other valuable options. Once you have decided on the domain or TLD of your choice, Freename.io currently has options for minting on Aurora, BSC, Cronos, and Polygon.
Then you buy a TLD. You have to buy the TLD before you'd be able to either register or mint it. Once you have purchased the TLD of your choice either with funds from your MetaMask wallet or credit card, go to "portfolio and incomes." You'd see a section, "TLD", under this section, you can either choose to mint a single TLD or in bulk.
Conclusion: The importance of domain names in the Web3 industry Domain
Businesses rely on names, which are like pieces of real estate in the online world. They act as a gateway via which your clients can contact us. Domain names have never been more sought after or more crucial than they are now. For instance, in the blockchain space, NFT sales have risen in tandem with the popularity of online shopping in the United States. An online presence makes content available to the world's 4.27 billion internet users.
Start your Web3 journey with Freename TLDs and Domains. Sign up now and get a welcome coupon code of 10$ on your first purchase.