List Your TLDs on the Freename Reselling Page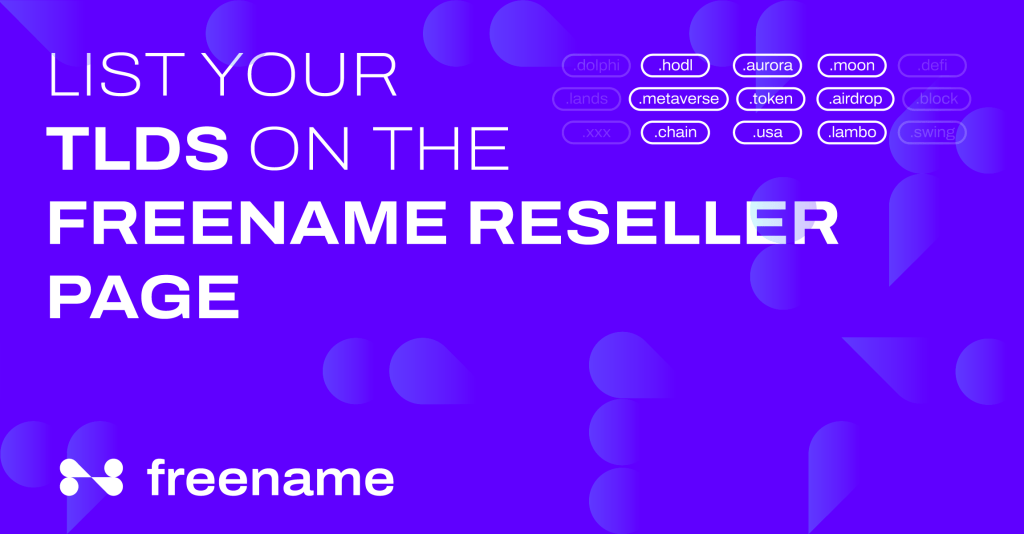 Yet another exciting news from Freename. Freename has launched one of the most anticipated features on demand, the reselling.
Now, you can list all your top-level domains on the Reselling page and get it generating revenue. With Web3 gaining more and more footing, now is the right time to invest in the Web3 domain name industry. TLDs especially give you the additional advantage of letting you get a passive income as long as you hold your Freename TLDs. Whenever a domain name gets registered under your TLD, you get to earn royalties and, thus, a good source of income.
And if you can catch hold of unique domains early on, you can resell them at a much-appreciated value as the market grows.
Why Freename?
Freename provides just about all the right things related to Web3 TLDS.
There is no limit to the choice of TLDs you can trade in Freename. You can buy literally any TLD you want and easily list them under the Reselling page and get a good return on your investments. Unlike other TLD platforms with limited options, Freename provides an extensive range of Web3 domains as well as the ability to create your own TLDs.
Passive income generation
Every time a user uses your TLD extensions, you get about 50% of the value per registration. The more users registering on your TLD, the more income you get.
Freename makes it a breeze to search and buy TLDs of your choice. It keeps improving on its feature offerings, giving you the ultimate platform for trading Web3 domains. The brand-new Reseller page is another tool that makes it easy for you to market your TLDs and get more users to buy domains under them.
How to Use Freename's Reseller Page?
The Reselling pages are similar to product showcase pages, where you can list down your TLDs and promote the sales of domain names under the corresponding extensions. It presents an intuitive and easy-to-use interface where anyone can easily search for and register domain names under your TLD.
All you have to do is share the link for your Reseller page in your promotional campaigns. The reseller pages eliminate a lot of complexity that could come from trying to explain to prospective buyers how to buy domain names under your TLD.
Now, all you have to do is share the link and show your buyers a showcase page where prospective buyers can search for and select domains under your TLDs.
Here is how you can make use of the Reselling page:
Login to your Freename account
Go to your account Portfolio > manage your TLD section.
Open the Reseller Page
Deploy the page, Add your Logo, and you are ready!
You can also customize the Reseller page as per your requirements.
Reselling pages provide easy search options and quick add-to-cart features that let people purchase with just a few clicks.
You can easily share the link to your Reseller page on your social media handles, blogs, and business website and redirect your buyers to the Reseller page for a hassle-free domain shopping experience.