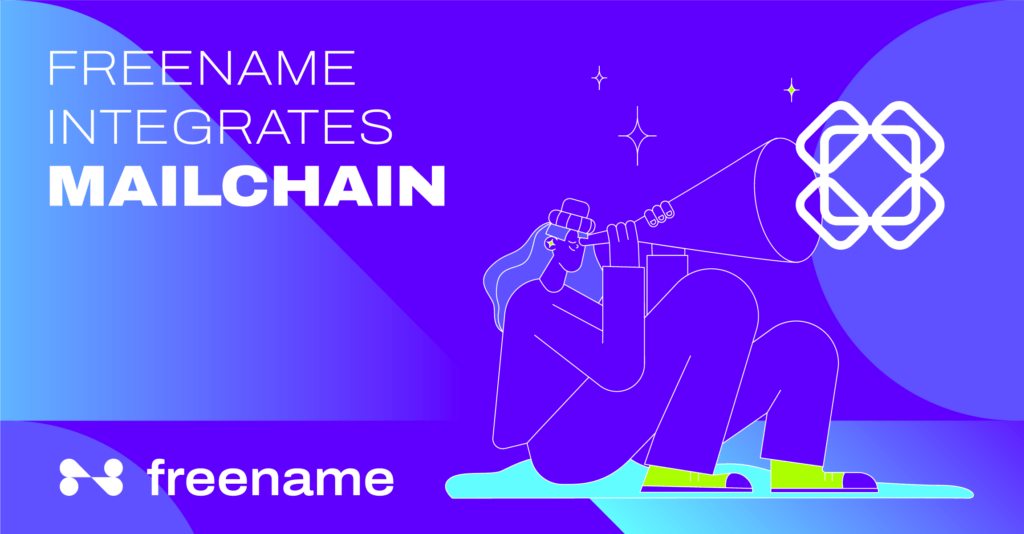 With Mailchain your Freename Domain becomes your identity for Web3 messaging.
The Web3 industry is buzzing with a plethora of innovations, from better infrastructure to cooler applications. But, there's one thing that's still missing — Web3 messaging. This service is the missing piece of the Web3 puzzle and many builders are competing to find an open and transparent standard for messaging.
Among them, Mailchain is pushing the envelope with a solution that allows users to send and receive private messages between their wallets with an email-like interface.
Thanks to this technology, Freename can add a messaging layer to its current services. Indeed, Freename is the place where you can build your digital identities, by linking your Web3 wallets to your very own domain names.
This partnership between Freename and Mailchain allows you to power up your Web3 identity, by equipping your Freename Domain with email powers. In a similar way to the google login, your Freename domain gives you access to a free, Web3 version of email communication.
Why do you need a Web3 email provider?
Whether you want to create and own your digital identity or you want to showcase your work in Web3, you need a way to communicate in a safe and private manner.
Using traditional social networks or Web2 email providers exposes you to two core risks, lack of privacy, and unsupervised digital identities.
Many social platforms, like Facebook and WhatsApp, receive waves of criticism and public scrutiny for collecting and sharing user data with unknown third-party recipients, not to mention the multiple data breaches that happened in the past years. In the top data breach ranks we find Yahoo in the first place, with more than 3.5 billion users exposed, Facebook comes second with 2.1 billion, followed by LinkedIn with 1.1 billion profiles affected. You can check if you are part of the leaks on the "infamous" Have I Been Pwned website.
The second big issue with social networks and webmail messaging is a lack of digital identity verification. The current state of social Identity verification often leaves the door open to online scams, malicious bots, and hacks, usually targeting the least tech-savvy users.
Filecoin and Arweave, two of the most used decentralized data solutions, have built-in economic incentives that bring transparency and accountability to the table, thanks to publicly verifiable proofs of encryption and storage over time.
Filecoin, a global marketplace for storage is leveraging the IPFS (Inter Planetary File System) a peer-to-peer distributed file system that can be accessed from any point of the world. We could see Filecoin as an incentive system over IPFS. Read more about it here.
Web3 email providers leverage this data lake solution to be decentralized and secure, putting control back into the hands of users.
How does this apply to Web3 messaging?
Not your keys, not your emails!
Mailchain features full Keys ownership**,** even your account password, meaning that all your messages are secured with end-to-end encryption and you are the sole owner of the keys to "unlock" and read them.
Compared to social messaging apps or regular email providers, Mailchain messages are encrypted and saved on a decentralized storage data lake solution, meaning that your data is not stored on a centralized database, safeguarding your privacy.
How does Mailchain work?
Mailchain works just like regular webmail but allows you to send private emails to any Web3 wallets (or verified digital identities, more about it later).
You can use Mailchain for your personal life, your work team, or your community. You just need to know your recipient's domain or wallet address.
Since Mailchain doesn't store your account password and can't recover it in case you lose it, you must save a secret mnemonic phrase (like your wallet seed phrase) and don't share it with anybody.
Freename and Mailchain, a powerful integration
You might have noticed a Web3 Email tab on the Freename browser extension, if not, go and check how you can access your Web3 domain while you browse on chrome, firefox, or brave browser here.
To leverage this powerful integration, you just need to resolve your Freename.io Minted Domain to your wallet of choice, visit Mailchain, and log in to your Web3 inbox, as simple as that.
Are you ready to send your first Web3 messages with your .whale or .hodl identity?
Freename has made a tutorial on how to set up your Web3 inboxes with Mailchain, see it here.
"Freename is all about delivering user-owned Web3 Domains and TLDs with utility, so enabling our users to message easily through Mailchain signals a new way for them to connect and build their identity," says Davide Vicini, CEO of Freename.
This partnership gives additional utility to your Freename Domains and TLDs, which can be seen as your identity extension or a verified digital identity, now ready to be shared with other verified addresses for everyday leisure or work messaging.
How you can benefit from partnering with Freename.io
If you're a Web3 project looking to partner with a leading player in the space, Freename.io is an excellent choice. By partnering with Freename.io, your project can access a large and engaged community, collaborate with experts in the decentralized identity space, and showcase your project to a wider audience. Don't miss out on this opportunity to drive growth and success in the Web3 ecosystem — reach out to Freename.io today to explore partnership opportunities.