The Best 3 Letter Domains to Acquire on Freename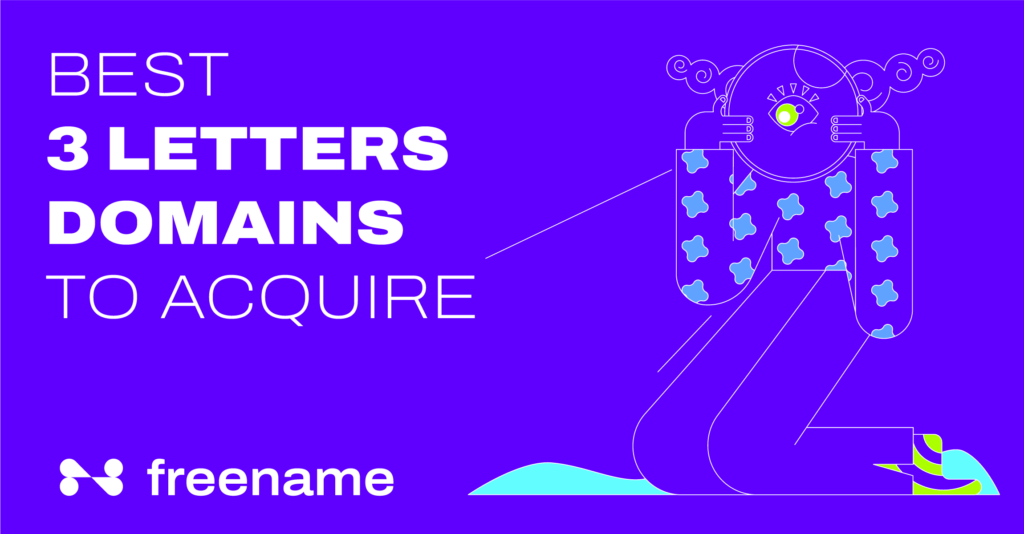 The world wide web is gradually transitioning into its third version – Web3. And with Freename.io, you can now purchase your top-level domain (TLD).
The idea of owning custom TLDs is quite exciting. So far, we have been limited to the standard TLDs such as '.com' or '.org,' all of which are controlled by the regulatory body ICANN. But getting custom TLDs is a game-changer, as you can now acquire any domain of your choice, so long as it isn't taken. And unlike the standard TLDs we have today, the custom domains purchased from Freename are fully under your ownership.
Are you ready to join the web revolution and get your hands on a custom 3-letter domain? If so, what's the best domain to choose and acquire? After all, being able to choose any domain of your choice is confusing as there are numerous possibilities. So read on as we help you determine which domains are worth spending or investing in.
Why acquire a 3-letter domain?
With Freename, you can get a TLD of any length and not necessarily just three letters. For example, you can get a top-level domain like ".techno," which can be used by businesses revolving around technology.
But 3-letter domains are better because they're short, convenient, and the world is already used to them. They also hold more value because they are limited in number. Whether you're planning to buy a domain for your own use or as an investment that you can resale or earn royalty from, a concise 3 letter domain will be much more valuable than longer domains.
What are the best three-letter domains?
The answer to this question isn't straightforward; we won't name a particular domain as the best one. Also, what's best for you may not be the same for another entity. Instead, we'll discuss some key elements of 3-letter TLDs and give you a few excellent tips and pointers for anyone to choose a suitable domain.
1.   Initials-based domains
The first option is to pick a domain that's made up of your initials or that of your business. It's easy, doesn't require much brainstorming, and, best of all, it's relevant. For individuals, a 3-letter domain made up of their initials will perfectly represent their digital identity. For businesses, it can be an extension of their brand image. Such domains have huge potential for expansion. For example, a parent company could have all its subsidiaries branded with a domain made of their initials.
Of course, since many people and even companies have the same initials, there's no guarantee that your chosen 3-letter domain will be available. If you don't want to miss out on this ingenious idea, get started on Freename and buy your initials-based domain right away before it is acquired by someone else.
2.   Industry or Niche-based domains
For companies and even people like freelancers or content creators, it can be worthwhile to purchase a 3-letter domain based on their industry or niche. Find a keyword that is highly relevant to your industry. If it's a 3-letter word, you're all set. For example, ".gym" can be an excellent 3-letter TLD in the fitness niche.
If it's a longer word, you'll have to put in a little mental effort to abbreviate it properly. For example, ".med" – short for medicine – would be a valuable domain if you're involved in the pharmaceutical industry.
3.   Alphanumerical domains
We're usually told to avoid numbers in URLs. And for valid reasons – they can create confusion, make it difficult for people to remember the URL, etc. But when you have the freedom to get your own custom TLDs, using numbers will not be an issue.
Is it going to be as convenient as the previous two options? Probably not. However, these domains are still valuable because they give you more options. For example, Olivia E. Harper may find that the TLD is unavailable based on their initials – ".oeh." Using the initials of their first and last name with a number can give them another relevant option, like ".oh1".
So we mainly encourage alphanumeric domains because mixing numbers gives you more possibilities to explore when you're out of options with initials or niche-based domains.
Get Your Custom 3-letter Domain on Freename
There's no better time than now to acquire your own TLD from Freename. Since 3-letter domains are limited, those who get their domains early on will have a huge edge over the latecomers. Some of these domains can become more valuable in the future, with excellent resale opportunities. So whatever your motivations are, it's best to get your domain as quickly as possible and not waste more time.
Head over to Freename.io, and try out the tips we have given above to find your best 3-letter domain.