The Best Pride Domains For Less Than $1K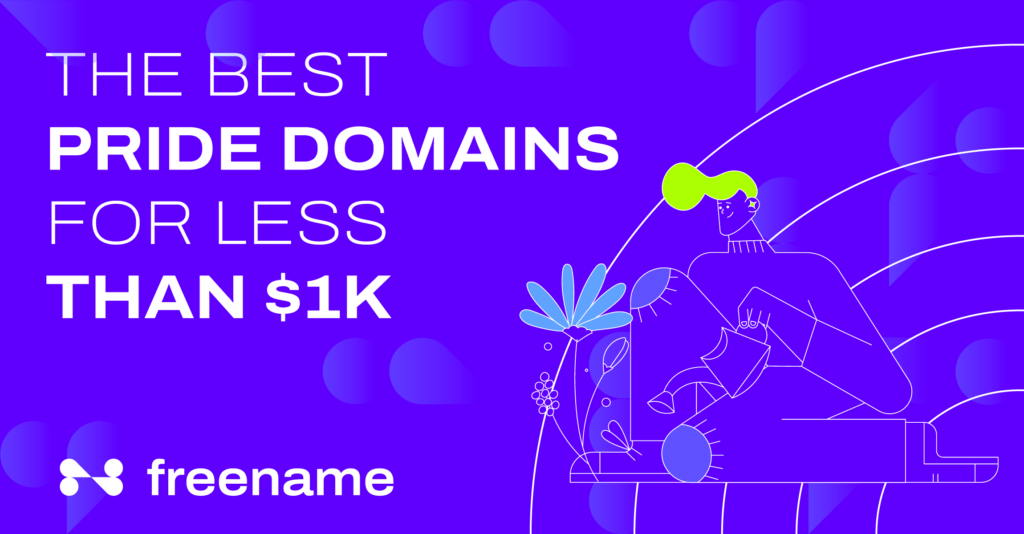 The Pride month is here, with the rainbow flag fluttering high. It's a month of celebration – of honoring the vibrant LGBTQ community and the significant strides made toward equality, diversity, and inclusivity. And as we commemorate the spirit of Pride month, we can also draw many parallels between gender and digital identities.
Just like the LGBTQ community has established its identity in the physical world, crypto domains are also rising to establish their identity in the digital world. Crypto domains offer a decentralized internet experience and a platform for individuals, businesses, and organizations to showcase their unwavering support for the LGBTQ cause.
In this article, we will discuss the best LGBTQ crypto domains available for under $1,000, celebrating the ingenuity of Pride month in today's digital era.
Why Should You Buy a Pride Domain?
A pride domain will be the perfect representation of the unique identity of the LGBTQ community in the digital landscape. Here are some reasons why you should buy a pride domain today:
Branding
For organizations and businesses that directly align with the LGBTQ community, a pride domain is just the perfect means of establishing a unique brand image. It immediately catches the attention of community members and supporters, fostering a sense of personal connection.
Collaboration
Owning a pride domain opens doors to collaborate with the LGBTQ community. It can provide opportunities for partnerships and networking with other organizations that share similar values or businesses that cater specially to gay customers, such as gay clothing brands.
Social Initiative
Pride domains can be used as platforms to support LGBTQ-related causes and initiatives. They can serve as hubs for fundraising campaigns, educational resources, or information dissemination, helping to raise awareness and generate financial support for important initiatives.
Valuable Asset
Develop your pride domain into a full-fledged LGBTQ-themed website to turn it into a valuable asset. Create unique content on the site, and find ways to monetize it so that it will become an income stream for you while still showcasing your support for the gay community.
Future Investment
Even if you don't have any immediate plans with a pride domain, it will still be a good investment for the future. A crypto domain is still an industry in its infancy. So when it bursts into the digital scene a few years down the road, the value of your pride domain can skyrocket, giving you a massive return on investment when you sell it.
And, of course, with a pride domain, you'll also enjoy all the benefits of crypto domains, such as decentralization, security, and undeniable digital ownership and identity.
Best Pride Domains Under $1k
When it comes to domain names, there's an entire world of possibilities. You can search and buy any domain representing the LGBTQ community as long as it's available. But if you're confused about where to start, we've searched for many pride domains and handpicked a few great ones, all under the budget of $1000.
pride
Price: $995
This short and simple domain gets straight to the point, including two directly relevant terms in the domain name – 'gay' as the SLD and 'pride' as the TLD.
lgbtq
Price: $995
This next option is also similar, just replacing the TLD from 'pride' to 'lgbtq', which is why it also has the same price.
pride
Price: $10
This one here is an absolute bargain, being a highly relevant pride domain that is available for just a small price of $10! Grab it as soon as possible while it's still available.
lgbtq
Price: $10
Again, similar to the previous one but with the 'lgbtq' TLD, this one too is available for such a low rate. It definitely has a great potential as a future investment.
lgbtq
Price: $199
Finally, we've saved the best for the last. The domain pride.lgbtq is such a great option because it's much cheaper than gay.pride/gay.lgbtq, and more concise and relevant than the "homosexual" SLDs. It has a more professional ring to it, which is really unique and perfect for business.
These are our picks for the top 5 pride domains under $1000. As you can see, they all include two popular TLDs – .pride and .lgbtq. Sadly, these two TLDs themselves are already taken, but there are still so many possibilities of second-level domains under these two TLDs.
Additionally, if you're highly interested in a TLD for a pride domain, then you might be interested in the .homosexual TLD, which is available for around $1700.
Get your pride domain today at Freename
If you want to establish your unwavering support for the LGBTQ community with a unique digital identity, there's no better choice than a pride domain. Along with all the benefits of crypto domains, it also holds value as an asset or investment. Our picks for the best pride domains are all excellent options under $1000. So if you want to purchase these pride domains, hurry up and do it before someone else claims them.
Head over to Freename.io and get your pride domain today!