Why Are AI Domains So Expensive?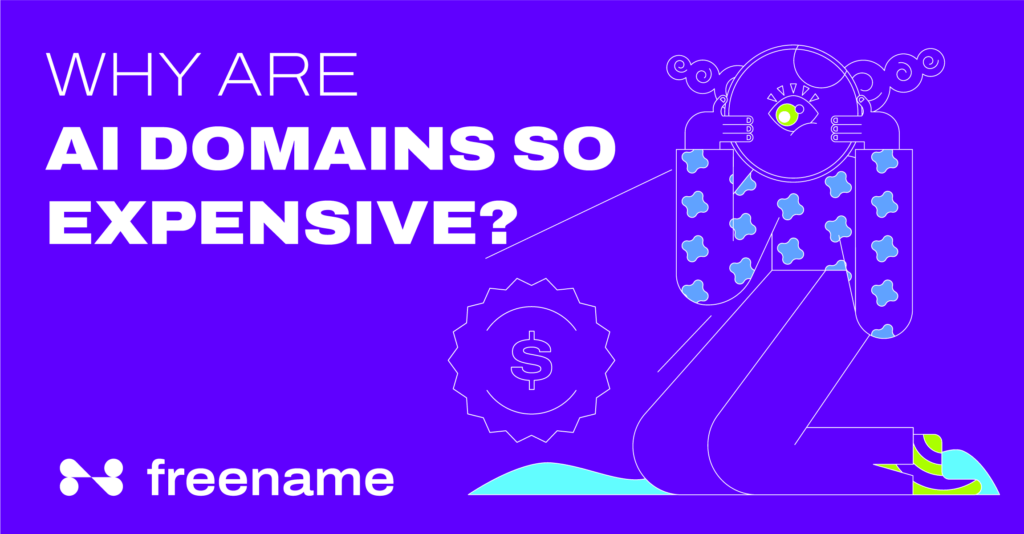 In the ever-evolving landscape of the startup world, a new phenomenon has emerged: AI domain names. With the tremendous growth and widespread recognition of artificial intelligence (AI), these domain names have become the modern-day equivalent. They may have become equivalent to the revered .COM addresses.
AI continues to demonstrate its transformative potential in revolutionizing our interactions with technology. This has made the demand for AI domain names has surged dramatically. The registration price for the top-level domains (TLDs) related to AI may be higher compared to other domain registrations. However, the allure of securing an AI domain name remains strong. Especially, considering the availability of such names in contrast to more popular domains.
In this article, we will explore the rising significance of AI domain names. Also, delve into the reasons behind their escalating popularity in the startup ecosystem.
Why are Ai domains popular?
The popularity of AI domains has soared in recent times due to their numerous advantages. These domains are particularly attractive because they are closely associated with cutting-edge technologies like robots and deep learning. Whenever individuals encounter a web address with .ai, they immediately recognize that it pertains to artificial intelligence work.
.inc or .biz domains convey a serious business presence, and also, .clothing domain signifies a strong interest in fashion. Just like those domains, a .ai domain demonstrates a firm commitment to the field of artificial intelligence.
Noteworthy Companies Embracing AI Domains
In recent years, numerous forward-thinking companies have embraced AI domains. They leverage on their potential to enhance their online presence and reinforce their association with artificial intelligence (AI) technologies. In addition, more and more individuals and investors buy AI related domains, as their prices are rising steadily, adding a huge investment potential. Here are some notable examples of AI Domains that have been sold on Freename in the past:
.aitunes

.openai
.chatgpt
.aiartist
.aitools
The adoption of AI domains by noteworthy brands like Google, Apple, Microsoft, NVIDIA, IBM, etc serves as a testament to the growing recognition of the significance of AI in various industries. More companies realize the potential of AI and seek to showcase their involvement in this transformative field. The popularity of AI domains is likely to continue rising, providing a distinct digital identity for those at the forefront of AI innovation.
If you are looking yo invest in ai related domains, there is your sign.
Why You Should Buy Your AI Domain From Freename
When it comes to purchasing AI domain names, there are several reputable domain providers to choose from. However, it is essential to consider the costs and fees associated with each provider before making a decision.
While popular AI-related domain names such as .openai, .aitunes, .chatgpt, and .aiartist have already been sold, the demand for other AI-related domains continues to rise. Businesses and individuals are actively seeking unique and creative domain names that align with the AI theme.
Fortunately, platforms like Freename.io offer a variety of interesting and available AI-related domain names. Some examples include artificial.intelligence, ai.innovation, openai.gpt, best.aitools, ai.digiwallet and many more. Starting from 5$, you can find any SLD or TLD you desire.
These domains present a great opportunity for individuals and businesses looking to secure a domain that resonates with their specific AI applications or ventures. With these domains still available, it's a chance to establish a distinctive online presence in the AI space.
You can consider Freename.io for your AI domain registration needs. Freename.io offers competitive prices for AI domains. This makes it an attractive option for those looking to secure an AI-related domain without breaking the bank. You can potentially find more cost-effective options while still maintaining a reputable and reliable service.
Conclusion
AI domains are expensive due to their brandability, scarcity, and industry relevance. The high demand for these domains in the tech industry, where they align perfectly with the focus on artificial intelligence, drives up their prices and makes them a perfect investment.
Factors such as their short and memorable nature, contribute to the cost. Also, investment potential, domain hacking possibilities, pricing decisions, and ongoing maintenance costs contribute to their premium pricing.
While the cost may be higher compared to other domains or domain extensions, it comes with some specks. Businesses in the AI or technology industry can benefit from the credibility and differentiation that AI domains provide.
However, there are some factors to consider before buying an ai domain. There should be evaluation of alternative options and consideration of long-term benefits and ROI are crucial before making a purchasing decision.