Freename Enables Web3 Website Builder Partnering with EDA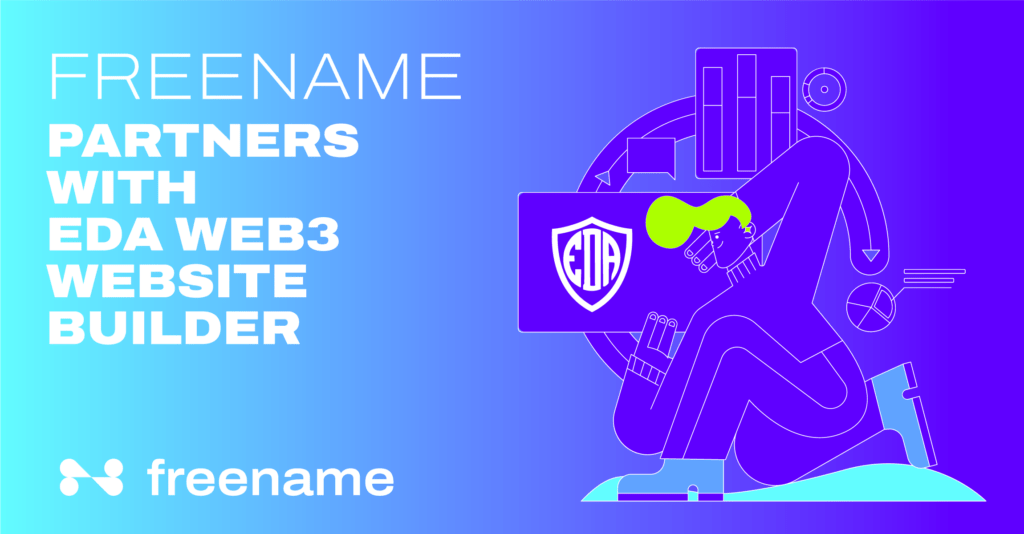 The Web3 ecosystem, a decentralized and open network that attempts to give people more control over their online activity, has grown in recent years. As Web3 gets popular, new tools and platforms for developing decentralized apps and websites emerge. Freename, a Web3 domain name service that allows users to claim and utilize blockchain-based domain names, is one such platform.
To provide a smooth experience for developing decentralized websites, Freename has teamed with EDA (Eternal Digital Assets), a popular Web3 website builder. This collaboration will give users strong tools for creating and deploying Web3 websites while maintaining control over their data and online presence.
This blog post will explore the benefits of using Freename and EDA together and how this partnership is poised to shape the future of Web3 website development. We'll also take a closer look at the unique features of each platform and how they complement each other to provide an unparalleled Web3 website-building experience.
What is the relationship between Freename and EDA?
The internet has come a long way since its inception. With the arrival of blockchain technology and the Web3 era, we now witness decentralized web application creation. This new era promises to revolutionize how we interact online. One of the latest developments in this area is the partnership between Freename and EDA. It has resulted in the launch of a new Web3 website builder.
Freename is a decentralized domain name registrar that allows users to register domain names on the blockchain. They are censorship-resistant and immune to seizure. EDA allows users to create decentralized applications (dApps) on the Ethereum blockchain. The partnership between these two companies has resulted in a new product that promises to make it easier for users to create and deploy dApps.
The new Web3 tool is a platform that allows users to create websites that run on the Ethereum blockchain. This means that the websites created on this platform are decentralized and cannot be taken down or censored by any centralized authority. The platform is built on top of EDA, which means that users can take advantage of the features and benefits of this platform to create powerful and feature-rich websites.
One of the key features of the new Web3 tool is its ease of use. The platform is designed to be user-friendly, with a simple and intuitive interface that makes it easy for users to create and deploy dApps. Users can choose from various templates and design options to create a website tailored to their specific needs. The platform also comes with various tools and features. Its features make it easy for users to manage their websites and keep them up to date.
Another important feature of the Web3 tool is its scalability. The platform is built on top of the Ethereum blockchain. This means it can handle many users and transactions without slowing down or crashing. This makes it ideal for businesses and organizations needing a scalable and reliable platform to build their websites.
One of the key benefits of the Web3 tool is its security. The platform is built on top of the Ethereum blockchain. Thus, it is decentralized and immune to hacking and other security threats. This means that users can create secure and protected websites from malicious attacks.
The Web3 tool also offers a range of monetization options for users. Users can monetize their websites through various methods, including advertising, subscriptions, and in-app purchases. This makes it easy for users to generate revenue from their websites and create sustainable businesses that can thrive in the decentralized Web3 era.
Overall, the new Web3 tool from Freename and EDA is an exciting development in the world of decentralized web applications. With its ease of use, scalability, security, and monetization options, the platform promises to make it easier for users. They can now create and deploy powerful DApps to revolutionize online interactions. Whether you are a business owner, developer, or just a regular user, the web3 tool is worth checking out.

How the EDA QuickBuild Web3 Tool Works
This tool has a very clean and interactive user interface. In 47 steps, more or less, you can build your Web3 website without any professional assistance. You'll see website settings and a preview option also.
Check out this tutorial for a closer look.
These are 14 simple steps on how you can build your Web3 website with EDA.
      You can start from the header. Add a header of your choice and customize it the way you like. You can add images and text to the header to give it a user-appeasing look.
      The next step would be to select your column heights. You can choose from the available options.
      The following step would be to add a layout. The best part is that there are options on display to choose from.
      The next step would be to add a section based on your needs.
      The next line of action after choosing a section will be to fill it up with content like words and images.
      If you are interested in adding hyperlinks to your images, you can customize your image.
      The next thing will be to add a background color that resonates with your brand needs.
      Then, add your domain listing there.
      You can also add a footer and also configure your website settings.
      Once you are done with your design, you can have a quick view.
      If you're satisfied with your design, publish it.
      Click on basic and select the storage plan of your choice.
      You can host it yourself and add a hosting date.
      Your USDC must be on the polygon network.
Note that the IPFS hash also works on the Brave browser. That's a simple step to browse your Web3 website.
Conclusion
The collaboration between Freename and EDA in developing a Web3 website builder represents a significant advancement in the realm of decentralized web development. This innovative platform allows users to create websites that are more secure, transparent, and resilient than ever before, thanks to the utilization of blockchain technology. By capitalizing on the unique benefits of Web3, this partnership has the potential to revolutionize the approach to website building, facilitating a more decentralized and democratic internet. As the world continues to evolve, it is thrilling to witness the emergence of such cutting-edge technologies, and we eagerly anticipate the impact they will have on the future of web development.