Freename Partners With OMA3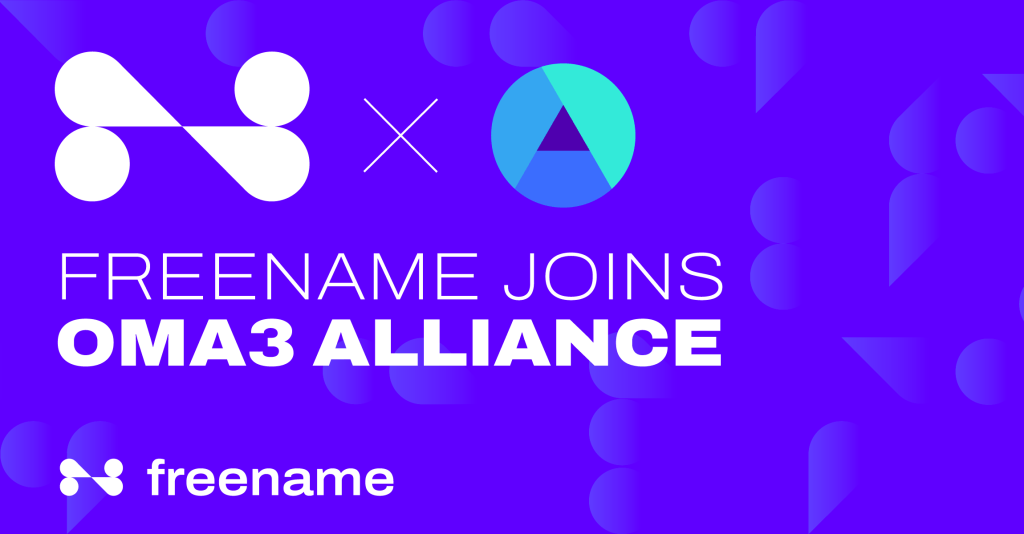 Freename has successfully partnered with OMA3. OMA3, the Open Metaverse Alliance in Web3, is for all Web3 Metaverse content builders. It is known for granting high interoperability to the digital assets linked to the metaverse industry.
Freename's goals align with those of OMA3 to bring about interoperability across the metaverse industry through web3 domains. This partnership will result in the seamless operation of web3 domains in the metaverse industry.
The role of web3 domains in the metaverse industry
Web3 domains, with their decentralized authority, will help the metaverse industry thrive. Metaverse interoperability, along with Web3 domain decentralized power, will enable metaverse creators to interact using digital avatars seamlessly. The web3 ecosystem involving decentralized email service, peer-to-peer decentralized payment systems, peer-to-peer video conferencing platforms, and others will help users access metaverse smoothly.
The web3 domains, as part of the web3 ecosystem, will help metaverse creators build and own fully decentralized websites. This will give users the power to seamlessly use and navigate search engines like Brave, Opera, and Chrome. The Web3 browser extensions will further alleviate the experience of navigating through the Web3 search engines.
Additionally, web3 domains will allow users to travel from one metaverse to another with full control. The Web3 domains, thus, make the metaverse more interconnected, transparent, and secure.
Why is web3 interoperability important?
Web3 domain interoperability refers to its ability to provide cross-platform communication. It enables users to transfer their assets from one platform to another without restrictions. This means they can transfer their virtual assets, like avatars, collectibles, and metaverse assets, from one platform to another. This allows metaverse creators to use their virtual digital assets interoperably without buying them again.
Also, as the metaverse industry is evolving and open metaverse platforms like OMA3 are making their presence felt, there is a greater need for standardization. OMA3 itself works on the standardization principle, thus ensuring that the platform remains safe and secure for users to use. The interoperability principle and standardization incite user confidence and foster user experience in the Web3 ecosystem.
Freename commits to revolutionizing metaverse interoperability
Freename is not just limited to Web3 domains. It is working towards creating a Web3 ecosystem to empower metaverse users. By joining hands with OMA3, Freename is committed to advancing toward making web3 domain interoperability in the metaverse a reality. It will continue to strive towards creating an open and decentralized metaverse ecosystem.
Freename and OMA3 are perfectly aligned in creating a decentralized identity and collaborating with like-minded businesses and start-ups that follow suit to make web3 domain interoperability and metaverse interaction successful.
In short, with this partnership, Freename takes a step forward in providing true ownership of virtual identities and the freedom to navigate across different metaverse platforms with ease, security, and confidence.
More about Freename
Freename is a Web3 platform that offers Web3 TDLs and domains. Users can simply register on Freename and mint their own TDLs. There are no monthly charges when buying a domain from Freename. It only charges a minimal one-time fee for buying a Web3 TDL. Furthermore, Freename also allows you to create passive income by minting domain names. You can become a registrar of domain names at Freename and earn royalties in return. Freename also allows users to trademark their Web3 TDLs and domains.
More about OMA3
OMA3 is an open Metaverse platform for Metaverse creators. Its unique identity lies in its interoperability, standardization, and full ownership of virtual assets provided to its users. OMA3 is an international consortium based in Switzerland and is an open-source platform. This means all Web3 organizations are free to join hands with OMA3.