Most Valuable Freename Domains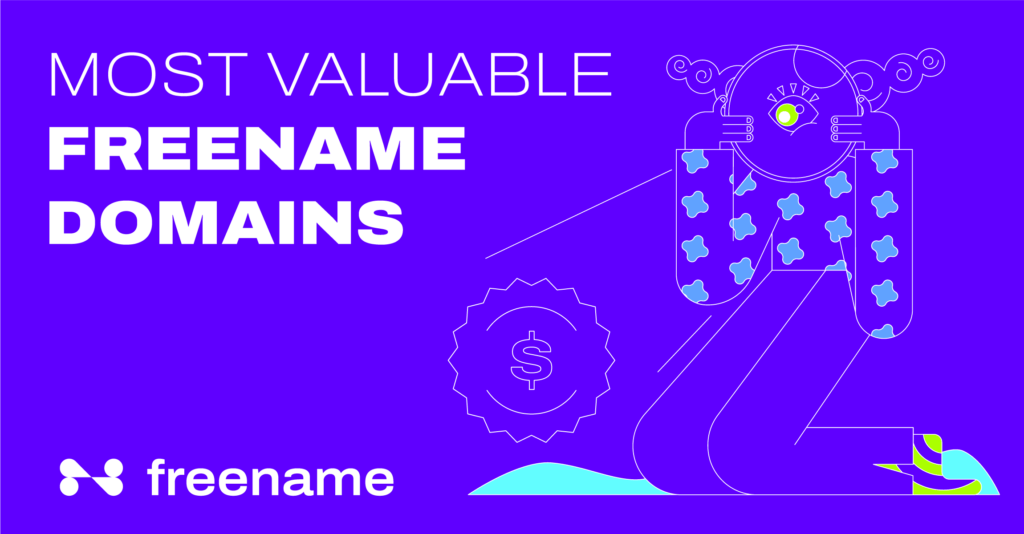 Domain names are essential components of any website, as they provide a unique identity to the website. A Freename domain is a Web3 domain name that can be registered on the blockchain network. These domains are ideal for small businesses or startups looking to establish their online presence, send Web3 emails, and participate in Web3 meetings or pay using cryptocurrency. This article will discuss the most valuable Freename domains you can use in your Web3 activities. Read on.
What are Freename Domains?
Freename.io is a cutting-edge TLD and domain platform that is at the forefront of the emerging Web3 system. One of the platform's core features is the ability for users to register and mint their own customized Web 3 TLDs. It can be used to represent their digital identity and brand on the decentralized web.
What sets Freename.io apart from other domain name services is its empowerment of users. By granting access to royalties and trademarks, individuals can safeguard their digital identity. This means that users have more control over their online presence. They can protect their personal brand in the rapidly evolving Web 3 space.
Furthermore, owning a Freename Web 3 TLD entitles users to a 50% passive income for every domain purchased on that TLD. This means that users not only benefit from the increased visibility and control over their digital identity, but they can also generate a steady stream of passive income by leasing out their domains to others on the network.

What Is the Minting of Freename Domains?
Users can mint their TLDs or domains on several blockchains, including Polygon, Cronos, and BSC, with additional blockchain possibilities coming soon. The user now has complete ownership and management over their TLD or domain.
Minting TLDs or domains on Freename.io can have a variety of applications. This includes streamlining crypto payments, hosting decentralized websites, web3 meetings, and gaining royalties rights. Users have the flexibility and autonomy to choose the blockchain that best meets their needs and preferences. All of this is possible because they can mint on many blockchains
The Most Valuable Freename Domains
Freename.io's algorithms suggest domains based on keyword searches, and you can customize these suggestions to meet your unique needs.
Let's take a closer look at some of the suggested domains available through Freename.io's algorithms:
4climate – This is a highly recommended domain on Freename.io and its available SLDs. Several SLD variations include 4Climate.cryptoapp, 4climate.giftcard, etc. All of these serve unique purposes and relate to unique audiences. 
.usa: The .usa top-level domain (TLD) is a domain extension reserved for websites related to the United States of America. It is a popular choice for businesses, organizations, and individuals. These categories of people would want to establish a strong online presence in the USA. 
The .usa domain allows you to create a website that speaks directly to an American audience. It promotes American products and services. In addition, it highlights American culture and history.
.boost: The .boost TLD is a domain extension conveying energy, strength, and growth. It is a great choice for businesses and organizations that want to emphasize their ability. It includes helping customers achieve their goals and reach new heights. 
This TLD is a perfect choice if you're in the fitness industry, a marketing agency, or a tech startup. A .boost domain can help you stand out and create a memorable brand identity.
.mobilephone: The .mobilephone TLD is a domain extension that is designed for websites related to mobile phones, smartphones, and other mobile devices. Quite a number of people use mobile devices to browse the internet.
In this regard, having a .mobilephone domain can help you connect with your audience. It creates a mobile-friendly website that looks great on any screen size.
Other Suggestions
.iou: The .iou TLD is a domain extension that is short for "I owe you." Its versatility allows for multiple applications. They include creating a website for a lending platform, a peer-to-peer payment system, or a personal finance blog. 
The .iou domain extension is easy to remember and unique. They can help make and maintain the best long-lasting image in the professional world. 
.exchange: The .exchange TLD is a domain extension that can be used for various purposes, such as creating a website for a currency exchange platform, a stock exchange, or a bartering network. It is a versatile domain extension. 
Also, It can help you establish a strong online presence in the world of finance and commerce. The cost of acquiring a .exchange TLD may be high. On the Freename domain, it is categorized as one of the most expensive TLDs at around $29,000. It's worth every penny, though.
444: This is one of the most expensive domains and highly sought-after domains on the Freename web3 domain store. It has several variations like 444.crypto, a perfect SLD for a crypto service provider. 444.sendfunds can be used for financial institutions, 44.web3bets, is perfect for decentralized betting and gaming. The list of SLDs on the 444 TLD is endless. 
Note that this is just a selection of the most valuable domain names available on Freename. There are other valuable domain names you will find when you visit Freename.io. In addition, three-letter domains are usually the most valuable types.

Conclusion
Freename.io is a game-changing platform that is revolutionizing how we think about domain names and digital identities on the decentralized web. They have innovative tools and a user-centric approach to helping their users. Anyone looking to establish a strong and secure presence on Web 3 can rely on Freename.io as their go-to destination.
Freename domains allow small businesses and startups to establish their online presence by exploring the Web3 system. The above-listed domains are some of the most valuable Freename domains that you can use to create your website. This is due to their popularity, easy-to-remember names, and free registration and renewal policy. When choosing a domain name, it is important to consider its popularity, ease of use, and availability
.