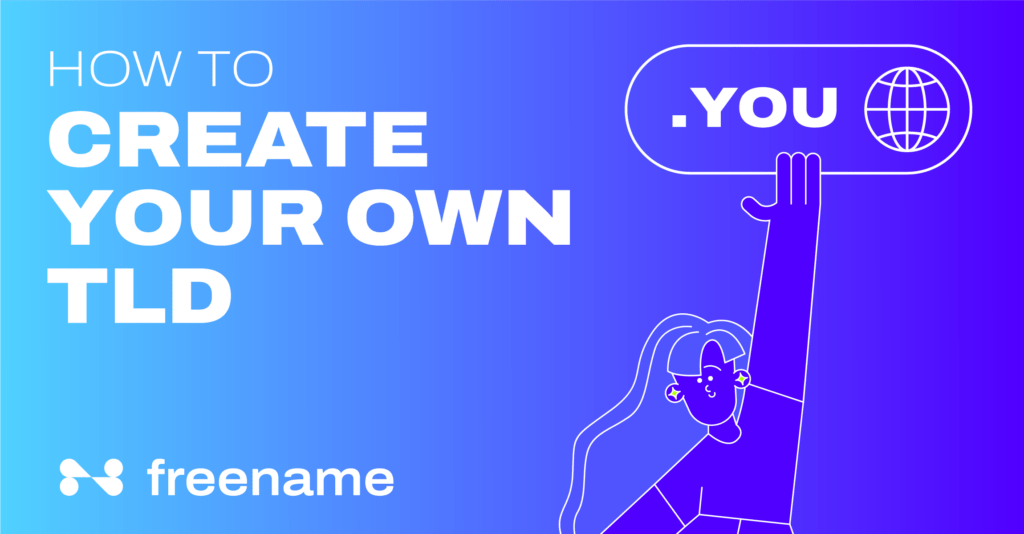 Knowing how to create your own top-level domain is very important because your Web3 website's top-level domain (TLD) is an important part of its identity. You are already aware of the importance of following a set of guidelines when selecting a domain name, the set of characters that will serve as your online identity. However, the TLD you choose represents a piece of who you are as a person.
A difference can be made by paying attention to the important details. Read on as we discuss.
What is the top-level domain?
The TLD is an appendage that should characterize the website's focus. As domain names are pronounced from right to left, the TLD is the last part of the URL. For instance in freename.metaverse, .metaverse is its TLD.
Right before the directory, you'll see the top-level domain. The second level domain comes after that, followed by the third. Pay close attention, there is a point between each step. When looking to protect their brand and stay one step ahead of the competition, many businesses opt to purchase a domain name with multiple top-level domains (TLDs) (e.g., freename.dao, freename.nft, Freename.moon, etc).
How many types of Web3 top-level domains are there?
There are a lot of Web3 TLDs that you can choose from. You just have to ensure you pick the right one that speaks about what you do. You might want to check out TLDs on Freename.io for instance.  Some of these TLDs include .metaverse, .moon, .chain, .airdrop, .young, .free, .xxx, .layer, .hodl, .lambo, .token, etc.
In addition to being able to register on an existing TLD, you can create yours. Any TLD of your choice can be created, registered, or minted as long as it is non-existent. The best part is that this TLD is yours forever. There is no need to pay any form of renewal fee to keep it yours. 
Since Web3 is just gaining the attention of users, it might be best to do your research on possible TLDs with potential and mint them right away! The earlier you do, the better because once you miss registering that TLD and it gets registered by another person, it's gone.
What is the process of creating your TLD?
Domain registration refers to the process of establishing one's own Internet address. Domain registrars are organizations that facilitate the registration of dot-com addresses. A domain name is a unique online identifier that specifies a specific administrative sphere.
Domain names serve a variety of networking and addressing needs, depending on the application. A domain name is a string of characters that is used to identify a particular network or to stand in for a specific Internet Protocol (IP) resource, such as a user's computer, a server computer, a website, or any other service that is delivered via the Internet.
How to create your TLD on
Freename.io
Freename.io is a platform that is risk-free and reliable for domain creation. It is quite an easy process to create your domain name on the Freename.io platform. You'll see a search option immediately when you visit the webpage. For instance, ".crypto" straight up. You are simply supposed to input "dot" followed by your preferred TLD.
As soon as you input your preferred TLD, click on the search. Then, if it is available, you'll find it displayed as protected but if it isn't, you'll find it available for purchase with a cart symbol. 
The first step is to sign up for an account. 
To access your account, use the profile picture/login button in the upper right. The link then directs you to a page with a login form and a sign-up form below it.
You can join by clicking the signup link and filling out the following fields: first name, last name, email address, username, password, and password again to confirm.
You'd have access to helpful features like a search bar and a marketplace once you get there. Freename.io allows you to mint your chosen domain or TLD on Aurora, BSC, Cronos, or Polygon.
After that, you must acquire a TLD.
To register or mint a TLD, you must first purchase it. Go to "portfolio and incomes" after you've paid for your preferred TLD with either your MetaMask wallet or a credit card. Under "TLD," you'd be able to mint a single TLD or a whole bunch at once.
How to choose a Web3 top-level domain?
You're taking the first step toward launching your Web3 website by purchasing your domain name. Which top-level domain will it be?
If your business falls within the metaverse boundaries, a metaverse TLD domain (for example .metaverse) may be fine, but if you want to expand your work to a blockchain network, .chain might be perfect.
Checking the availability of a domain extension is simple. Simply search in the "buy domain" area of a provider, like Freeename.io.
Which TLD do you choose for your Web3 project?
You need to give some serious thought to defining the specific requirements, preferences, and subtleties of your organization. From a business standpoint, it may be necessary to purchase a second domain name to forestall a competitor from registering a name similar to yours. alternatively, to improve one's position relative to rivals in a specific field.
Advantages of having your own top-level domain
A domain is a unique identifier that specifies the boundaries of a sphere of administrative control or jurisdiction in the global network. The Domain Name System specifies the procedures and rules that can be used to create a domain (DNS). Essentially, a domain is any online address that has a corresponding entry in the Domain Name System.
Having your own domain extension opens up a lot of doors. You can distinguish yourself online with your own top-level domain. Your domain name can then serve as the basis for a recognizable business. Having a .metaverse or .nft helps with your visibility on the decentralized network.
In addition, you can earn royalties by registering an unregistered domain when on the Freename.io platform. On this platform, users are allowed to register the TLD of their choice and earn passively from it. We are talking about being able to earn a lot of money as long as you strategize well. When other users register their domain name on your registered TLD, you are eligible to earn up to 50% of their registration fee. 
You might be wondering if people are even registering a Web3 domain. The world wide web is taking a different turn and a lot of people are looking into exploring the Web3 upgrade. 
What are the challenges involved?
Making your own TLD isn't without its risks. Finding a domain name that isn't already in use is difficult. Getting your domain name registered on the blockchain network is important.  That's why you need trusted platforms like Freename.io. Having secured your domain name, the next step is to set up your domain name system (DNS) servers.
Conclusion
TLDs are increasingly significant in Web3, so make sure you pick the proper one if you decide on registering and minting your personal TLD. A well-chosen TLD doesn't only help with your Web3 identity but opens up the opportunity to earn Royalties when you make use of platforms like Freename.io. 
This is an opportunity to have an extra stream of income while enjoying every other thing like anonymity, and decentralization, that comes with Web3.
Start your Web3 journey with Freename TLDs and Domains. Sign up now and get a welcome coupon code of 10$ on your first purchase.