Rewriting the Web: How New TLDs Are Sculpting the Digital Future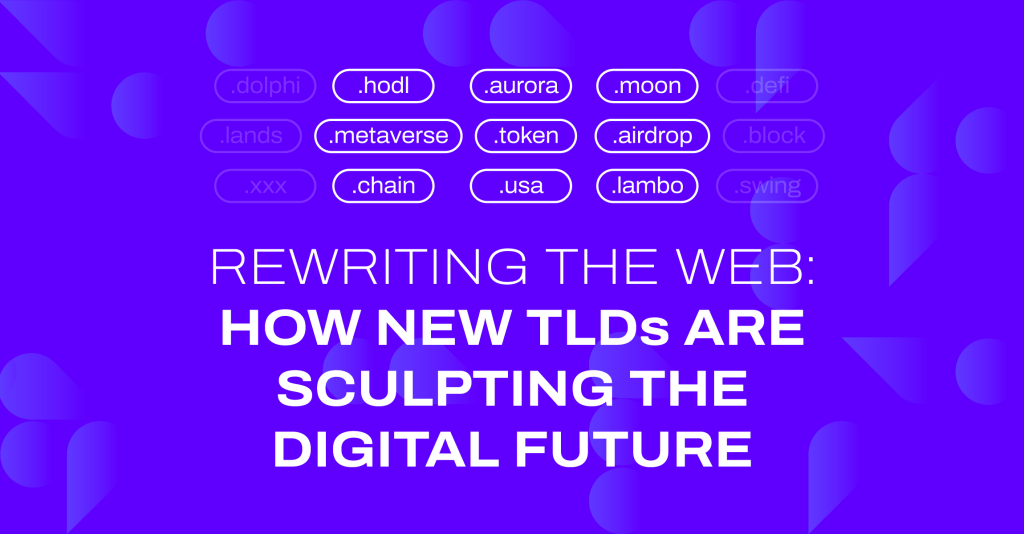 Introduction
In a digitally evolved world, Top-Level Domains (TLDs) are undergoing a captivating metamorphosis.
Just as the wind shifts directions, trends in the web domain landscape are also evolving.
The growing number of alternative TLDs are not just figures and fresh trends, but represent a variety of voices, identities, and endless possibilities. Just as Web3 promises to decentralize access and control of information, so too are alternative TLDs in the centralized world breaking the monopolization of the .com TLD, bringing freshness and diversity to the digital landscape.
The future is open and evolving, and with it our way of browsing, identifying, and interacting on the boundless web. If the .com initially marked the beginning of an era, we are now at the dawn of a new chapter, where every rising TLD has the potential to leave an indelible mark on history.
Are you ready to be a part of history?
.Com: An ancient King in a World of New Possibilities
Top 25 — TLDs
Top 10 — ccTLDs
Top 10 — New gTLDs
Digital Renaissance: The Meteoric Rise of Web3 TLDs
Most Popular Web3 TLDs
Other High Potential Web3 TLDs
.Com: An Ancient King in a World of New Possibilities
Once, the ".com" TLD reigned uncontested as the undisputed behemoth of TLDs. Today, with over 250 million registered domains, it maintains a commanding presence, much like an old king who still wields power in his realm. But the winds of change are blowing, and with them, new opportunities emerge on the horizon.
With the ever-increasing array of TLDs, the digital landscape is no longer confined to the dominance of ".com". In fact, considering just the top alternative TLDs with the highest number of registrations, we are faced with a staggering figure: over 280 million. This number alone surpasses the total of all currently active .com domains.
The ".com", in all its glory and might, currently accounts for 36.75% of the total TLDs. This is a significant figure, indeed, but it is also a testament to an ongoing shift. The broad variety of TLDs now available collectively holds a whopping 63.25% of the power in the digital world. This diversification is a clear indicator of the transformation reshaping the Web, with more and more voices and identities emerging through unique and original TLDs.
.COM vs All Other Domain Registrations (Web2)
Top 25 TLDs — Registered domains
TOP 10 ccTLDs — Registered domains
TOP 10 New gTLDs — Registered domains
Digital Renaissance: The Meteoric Rise of Web3 TLDs
In a digital age where evolution and revolution walk side by side, a tale of change and promise emerges: that of the Web3 TLDs. Every day, this chapter is enriched with new details, new protagonists, and new aspirations.
Freename, now a pivotal entity in this new world, has become the emblem of this digital rebirth. Since its inception, it has witnessed a staggering growth, achieving over 5,250 TLDs released, with more than 76% in 2023 alone. This is not just a number, but a chorus; a chorus that echoes with a current surge of about 500 new TLDs each month. And this relentless pace is a clear indication of the fervent desire of the digital community: to break the chains of centralization.
The rising enthusiasm for decentralization manifests in the desire to free oneself from constraints like annual renewals and the limitations set by centralized systems. The vision is lucid: an internet where an individual is not merely a user but also a builder, an innovator, a dreamer. Where digital freedom isn't just an ideal, but a tangible reality.
The journey towards Web3 is not merely a technological transition, but a global movement. It's the echo of a community eager to rewrite the rules, reset the boundaries, and reinvent how we live, work, and play in the digital realm.
Are you prepared to personally be a part of this revolution?
Most Popular Web3 TLDs — Number of Domains
% based on total Web3 Domains registered
Other High-potential Web3 TLDs — Number of domains