TLD Price Comparison Tips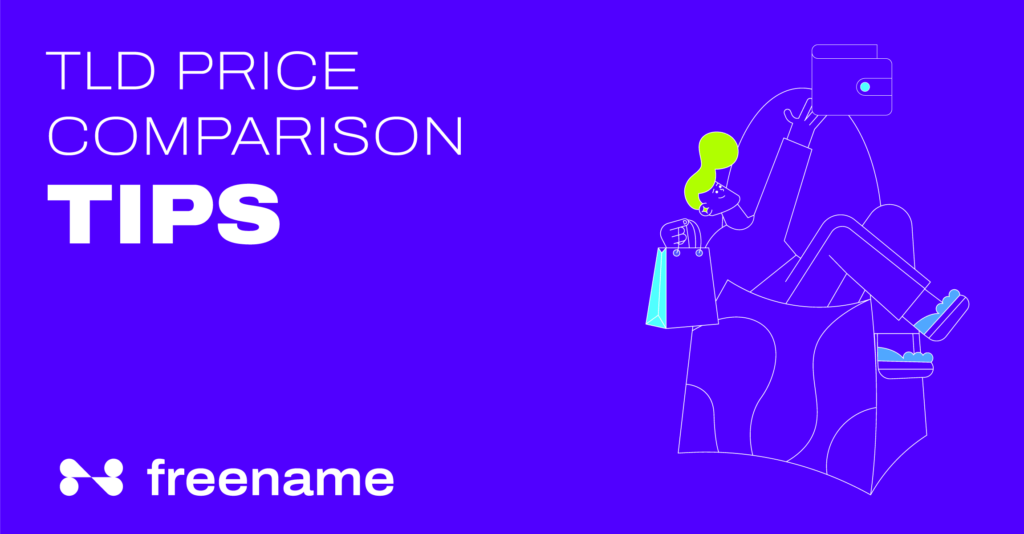 Like so many other tech-related and Web3 concerns, the answer to the question of how much a domain costs and TLD price comparison is unsatisfying: It depends on some factors.
Finding and researching the top 10 largest domain registrars, top 10 largest hosting providers, and top 10 most popular website builders should serve as a revelation and answer the question of domain cost and TLD price comparison, it will further provide some solutions, such as where to find domain names for no cost.
Before we go on to TLD price comparison, let's first get to know what a TLD is.
What is a TLD?
A top-level domain (TLD) is the part of the domain name that comes after the dot. There are many different types of Web3 TLDs, such as .moon, .hodl, .token, etc. Each TLD has its own specific use case
For example, a .token TLD might be suggesting that this domain is for sending and receiving various kinds of tokens, while .dao suggests a decentralized organization. TLDs can also be used to indicate the country of origin of a website. For instance, Web2 websites with a .us TLD are required to have a physical address in the United States.
TLDs are an important part of the internet ecosystem and play a vital role in ensuring that users can find the content they're looking for. By understanding how TLDs work, you can ensure that your website is accessible to your target audience.
The price of a TLD depends on many factors
To better understand the results of TLD price comparison, it is imperative that you understand the factors affecting the price of TLDs.
There are many factors that contribute to the price of a top-level domain (TLD).
The TLD extension
The most important factor is the extension itself. The most popular and valuable TLDs, such as ".eth" and ".crypto" can cost hundreds or even thousands of dollars per year. Other less popular TLDs may be available for just a few dollars per year.
The Domain Registrar
The second major factor is the registrar. Domain names must be registered with an accredited registrar like Freename in order to be active on the internet. Registrar fees can vary widely, so it's important to shop around for the best deal. Some registrars also offer discounts for bulk purchases or long-term contracts. Registers like Freename also offer royalties. The royalties are paid to a user when he creates or mints a new TLD and another user(s) registers on this TLD. A TLD creator can earn as much as 50% on all new registration fees of this TLD. The royalties are ideally activated at the creation or minting of the TLD. 
The cost associated with renewal and maintenance
Finally, there are often additional costs associated with setting up and maintaining a website using a particular TLD. For example, Some web hosts charge more for hosting websites that have a top-level domain (TLD). For example, a ".eth" or ".crypto" TLD can cost more to host. This is because these types of TLDs are more generic and have beliefs and support by users.
Now, let us look at some tips for comparing the prices of different TLDs
Tips for finding the best price for a TLD
Are you in the market for a top-level domain name (TLD)? If so, you're not alone. TLDs are in high demand, and the prices can vary widely. Here are some tips to help you find the best price for a TLD:
1. Do your research
There are a lot of TLDs out there, and prices can vary significantly. It's important to do your homework and compare prices before making a purchase. Make a list of TLD registrars, browse through each webpage, and check to see if the purchase is a one-time purchase or if there are extra renewal fees. Also, check if you have to pay for hosting, etc.
There are a couple of organizations that offer price comparison services for domains and TLDs. These services allow you to find the best service provider by providing you with a list of registrars with the cheapest registration, renewal, and transfer prices for domains and TLDs.
If you want to buy (register) a new domain at the best price, it is advisable you seek the service of such an organization if you can't find enough information and articles on google. Often, price analysis from such organizations is very handy and the best way to choose a domain registrar.
2. Work with a reputable registrar.
There are many registrars to choose from, but not all of them are created equal. Make sure you work with a reputable registrar that offers competitive prices. Our recommendation here is Freename.
Also, are there extra benefits for you like royalties and referrals with the particular registrar you are searching on and interested in? Is there customer care service, and how good are they, read reviews etc.
You can make the list of what you desire or want in whichever registrar you end up choosing.
In the end, even if you end up paying a huge fee, it should be worth it, if all that is mentioned above and many more you desire are obtainable.
3. Know what you want. 
Before shopping for a TLD, take some time to think about what you want and what would be the best fit for your website or business. This plays a very important role and the type of TLD you would end up with.
Conclusion
While the prices of TLDs are relative and dependent on some factors, what you should be looking for basically are the fee types, such as registration, renewal if there is, hosting if available and the ease to which you can navigate your chosen registrar platforms. Others should be benefits you enjoy such as royalties and referrals.
Start your Web3 journey with Freename TLDs and Domains. Sign up now and get a welcome coupon code of 10$ on your first purchase.